The Red Sea Aggressor III is a spacious 141 ft. yacht with a 30.5 ft. beam, built and powered for comfort, safety and stability. She is diesel powered, cruises at 10-12 knots and has 220-volt power. Comfortable accommodations for 24 guests include 12 spacious staterooms each independently air-conditioned, a private head and shower, porthole view window, mirrored cabinet, hair dryer, fresh towels and volume controls. Each stateroom has a 32-inch flat screen TV offering a selection of 400 movies, TV shows and documentaries. Guests will also be able to plug their computers into the TV screen to edit underwater pictures and video.
The Red Sea Aggressor III has 3 master staterooms each with a queen bed, 8 Deluxe staterooms each with two twin beds, and 1 suite with a full bed. The yacht has a beautiful spacious salon, large sun deck with shading, hot tub, chaise lounges and deck chairs, and bar.
There is a variety of nightly entertainment, including diving, fish identification presentations, movies, games and more. If you have a favorite movie, digital presentation or a video to share, we encourage you to bring it along. The staff especially loves new releases of movies, recent magazines and books. A small library of books for exchange is maintained onboard as well as fish identification books for reference.
All meals, snacks and beverages are provided.
Learn more about Dining Details & Sample Menus
Yacht Specifications
Port: Port Ghalib, Egypt
Built and maintained to the specifications of the local regulatory agencies and the regulations of the country of the flag.
Length: 141 ft
Beam: 30.5
Passengers: 24
Staterooms: 12
Boarding: Saturday 3:00 pm
Check out: Saturday 8:00 am
The Red Sea has been an Aggressor destination since 2014.
Staterooms & Floor Plan
Master Stateroom

One queen bed, picture windows, wardrobe, bathrobes, hairdryer, fresh towels, AC units, private ensuite bath.

ROOM - 10 & 11

Rm Size: 11' x 13'

Queen:

63" x 79"

Premium Deluxe Stateroom

One double bed, one single bed, picture window, wardrobe, bathrobes, hairdryer, fresh towels, AC units, private ensuite bath.

ROOM - 9 & 12

Rm Size: 10' x 11'

Double:

55" x 79"

Single:

39'' X 79''

Deluxe Stateroom

Two single beds, porthole view, wardrobe, bathrobes, hairdryer, fresh towels, AC units and private ensuite bath.

ROOM - 1, 2, 3, 4, 5, 6, 7 & 8

Rm Size: 10' x 11'

Twin:

39" x 79"

Twin:

39" x 79"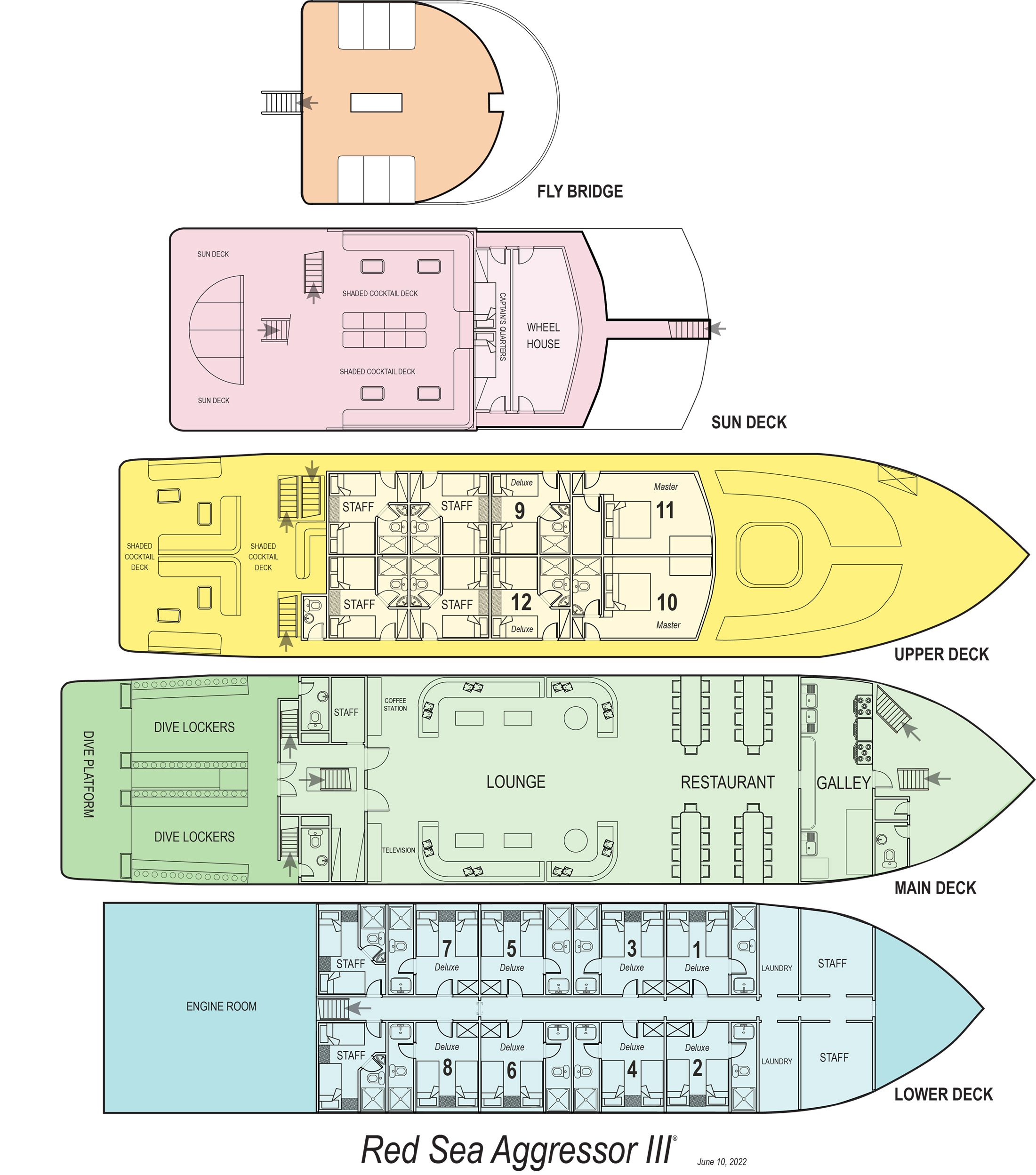 Dining and Sample Menu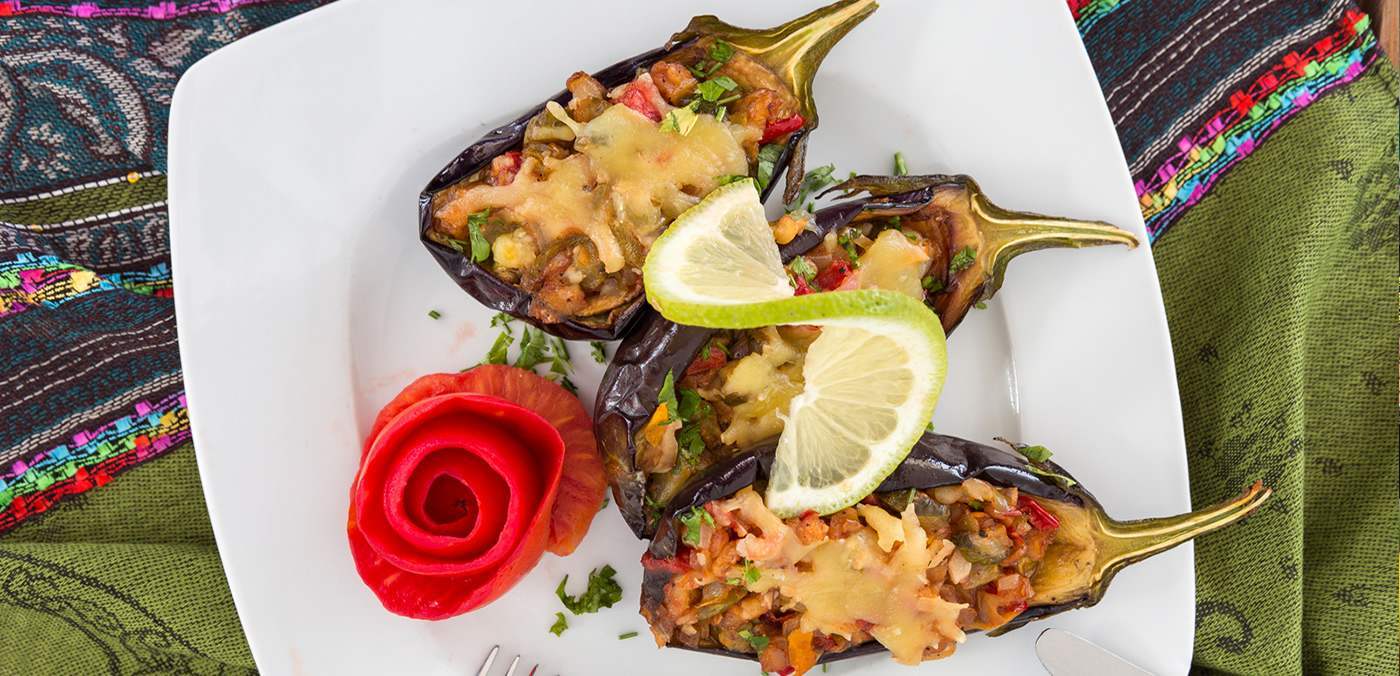 The menu aboard is varied and plentiful, with a variety of Egyptian feasts and local cuisine. If you have any special dietary requirements, please add this to your reservation through the GIS and speak to the yacht chef once onboard so he/she can adequately prepare to meet your needs. You will wake up to fresh fruits, hot entrees, cereals and juices. Lunches feature hot soups, homemade breads, salads and sandwiches and/or entrees. Dinners are chef prepared and served each evening and include salads, vegetables, seafood, beef or chicken with a fresh homemade dessert. Certain special dietary and beverage requests may not be available due to the remote nature of this location so we highly recommend you bring these items with you. Pork and turkey are not available.
Aggressor's beverage selection includes fruit juices, soft drinks, iced water, tea, coffee, and a limited selection of local beer and wine, which are complimentary. Due to the high duty charged on liquor, we suggest you bring your special brand. Remember, drinking and diving do not mix. Once you consume alcohol, you become a sunbather until the next day.
Four Brands,

One Family - Choose Your Adventure!