Jennifer Stankus, Surviving Mann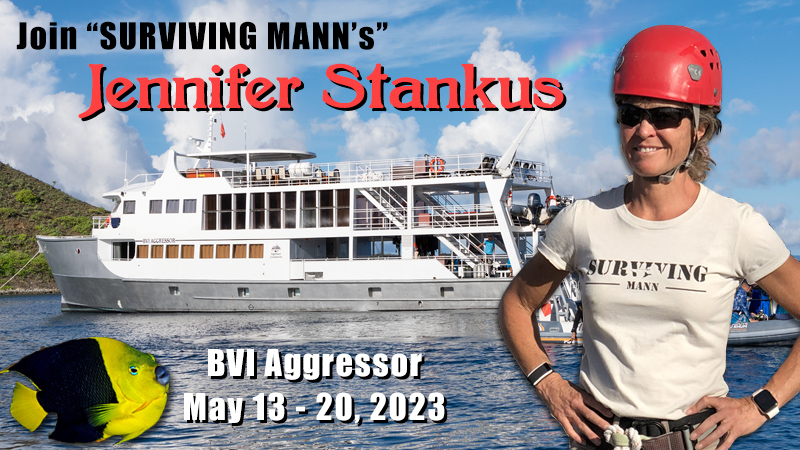 Unique Celebrity Adventure
We are pleased to announce our newest Unique Adventure with Jennifer Stankus from Suviving Mann. She will be hosting fun presentations Sunday – Wednesday night and sharing in the adventure of diving in the British Virgin Islands.


BVI Aggressor
May 13 - 20, 2023
Jennifer Stankus


Meet Jennifer Stankus
Dr. Jenn is a board certified Emergency Physician, attorney, military veteran x 2 (Airborne Army JAG and military judge), former police officer, pilot, cave diver, climber and mountaineer, surfer, extreme skier, motorcycle enthusiast, shooting and tactical expert, actress, producer, screenplay writer, courtroom expert, and an adventurer in the extreme. Her paramedics call her "The Most Interesting Woman Alive."

Dr. Jenn grew up in Boulder, Colorado and was a competitive runner, climber, hockey and soccer player, skier, swimmer, skateboarder, and was state champion and second in the world as a BMX racer, known for going big on jumps. She dropped out of high school at age 16 but finished in an independent study program a month later. Beginning at age 16 she was an Explorer with the Boulder County Sheriff's Office on and off for four years, training with the SWAT Team, Patrol, Search and Rescue, and Dispatch. At age 17, Dr. Jenn joined the United States Naval Reserve and after finishing boot camp in Orlando, Florida she worked as a Navy Corpsman and Military Police Officer for 8.5 years. She also became an Emergency Medicine Technician and volunteered as such with an ambulance service. At age 18, Dr. Jenn started college in Hawaii at Chaminade University. There, she conducted independent investigations as an Intern with what is now I.C.E., interned with the United States Marshall's Service, ran cross country, and learned how to surf. After two years, Dr. Jenn returned to Boulder, Colorado where she ultimately finished college at the University of Colorado - Boulder with a degree in Psychology at age 26. During those years Dr. Jenn completed the Colorado State Police Academy and worked for 2.5 years as a police officer. She had extensive training in pursuit driving, tactics, and arrest and control techniques.

After college, Dr. Jenn took a year off and worked in Vail, Colorado doing mountain rescue before returning to Denver, Colorado to attend law school at the University of Denver, earning a Juris Doctorate (JD) degree. She began teaching as an adjunct professor at Regis University, where she taught part time for nearly a decade. Upon graduation from law school, Dr. Jenn was commissioned in the United States Army Judge Advocate General (JAG) Corps, and attended the Officer Basic Course in Charlottesville, Virginia. After graduating, Dr. Jenn successfully completed Airborne training and worked as a hospital attorney and military judge, supporting the Criminal Investigative Division (CID) for several bases in Georgia and South Carolina. Dr. Jenn met her future husband Dr. Seth John Stankus just prior to finishing her Army commitment and moving to Washington State.

After getting out of the Army, Dr. Jenn worked with the US Attorney in Tacoma, Washington for a year before attending medical school at the University of Washington in Seattle where she earned her Medical Doctor (MD) degree. Dr. Jenn specialized in Emergency Medicine, with residency training at the University of New Mexico. During these years, Dr. Jenn did a lot of mountaineering, climbing, skiing, motorcycling, surfing, and became a professional level diver including volunteering as a rescue diver. She is a fully certified dive master, cave diver, and technical diver capable of decompression diving. Dr. Jenn held national emergency medicine leadership positions for a decade following medical school, and has testified extensively as a courtroom expert witness, primarily in criminal matters.
In 2016, Dr. Jenn turned her attention to the entertainment world when she competed on American Ninja Warrior. In 2021 she competed on Surviving Mann and was a cast member of Surviving Mann: Aftermath. In 2022 Dr. Jenn returned for season two of Surviving Mann and was the host of Surviving Mann: Aftermath. She is producing and Co-Staring in a new show from American Stories Entertainment called LifeLine!, coming in 2023. Her dream is to be an action hero...not just in real life!


Jennifer was selected as the MVP of "Surviving Mann" Season 1 and won of a Trip for Two on Belize Aggressor III. She produced this great video record of her trip.