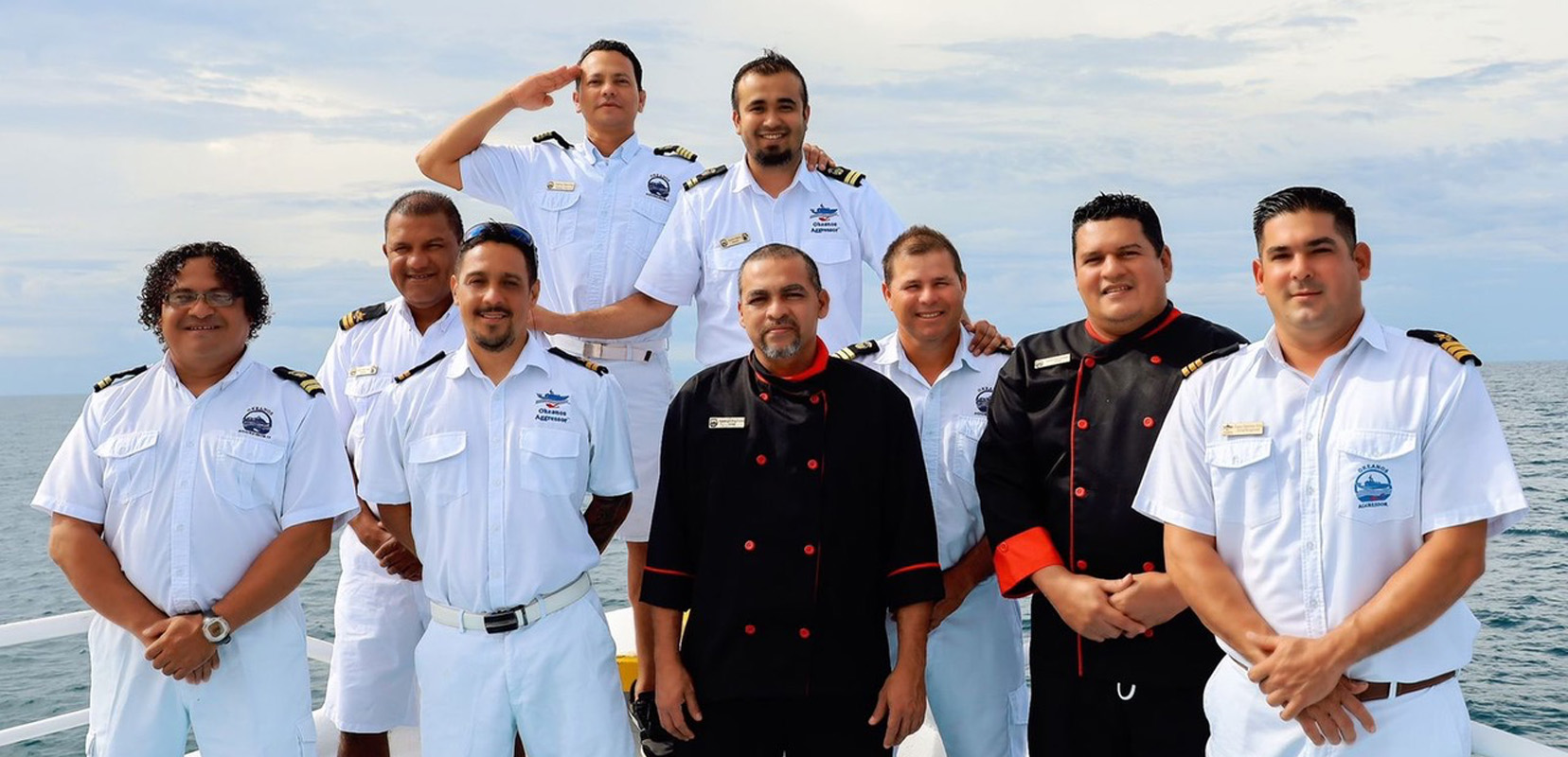 Carlos Sanchez

Captain

My name is Carlos Sanchez , I am the captain and PADI dive instructor in Okeanos II.

Originally from Liberia ( Guanacaste), I now live in Playas del Coco where I love to dive on my free time and spend time with my 4 kids.

I am an avid reader and love adventure books. Another one of my hobbies is to build and when at home I am always doing improvements to my home.

I am looking forward to having you onboard and show you how beautiful and special Cocos Island is.

Anibal Morales

Cruise Director/Divemaster

My name is Anibal. I was born in Nicaragua but raised in Costa Rica since I was a little boy.

I have been working for Okeanos for 22 years now and diving is for sure one of my passions. I am an instructor and also a captain which I studied in Panama.

I enjoy cooking for my family when at home and traveling through this beautiful country with them. Also love to play on the Play Station with my kids.

Victor Obando

Dive Master

My name is Victor, I am 43 years old and I am originally from Puntarenas so I have spent my whole life living next to the ocean. I love surfing and diving and I also volunteer with NGO's for ocean conservation projects on my free time. Football and cooking are another 2 of my hobbies.

Jehyler Ramirez

1st Officer/Dive Master

My name is Jehyler , I am 48 years old and have been working in Okeanos for 15 years now.

I was born and raised in Puntarenas, am married and have 3 beautiful kids.

Apart from being a dive master and an ocean lover, karate is a big part of my life and when I have some time off, I try to train as much as I can.

Esteban Espinosa

Head Chef

My name is Esteban Espinoza. I am 45 years old and I was born and raised in Puntarenas.

I am Okeanos II chef and have been working on the boat for 8 years now. I love the ocean and diving. When I have time off, I enjoy going with my kids to the beach and playing football with them. I look forward to cooking for you on your next Okeanos II trip.

Jairol Hernandez

Assistant Chef

My name is Jairol and I am 41 years old. Born and raised in Puntarenas, I have been in love with the ocean since I was a kid. Most of my free time I spend with my family visiting other places in Costa Rica or going to the beach with my wife and kids.

I love to cook and always try to improve my cooking with new recipes. I am also a big football fan and love to listen to music while I cook.

Jorge Carmiol

Panga Driver

My name is Jorge and I am a sailor on Okeanos II and have been working for Aggressor for 9 years now. Born and raised in Puntarenas, here is where I work and live.

I love diving and I jump in with the group when I have some free time onboard. As for my free time, I spend all the time I can with my wife and 2 kids.

Eduardo Molina

Steward

My name is Eduardo Molina. I work as a steward on Okeanos II and love my job and helping you feel comfortable while onboard .

Since I was born in Puntarenas, next to the ocean I love swimming and diving and spend most of my time around the sea. Another hobby I love is mountain biking and when I have time, I try to go with a group of cyclist friends of mine to discover some hidden trails here in Costa Rica.

Of course, as a Costa Rican, I also love football and you are most welcome to play with us when we disembark on the island as sometimes we do little matches between guests and crew.

Looking forward to serving you.

Notice: Undefined variable: bios in /var/www/html/templates/staff_template.php on line 76

Warning: Invalid argument supplied for foreach() in /var/www/html/templates/staff_template.php on line 76