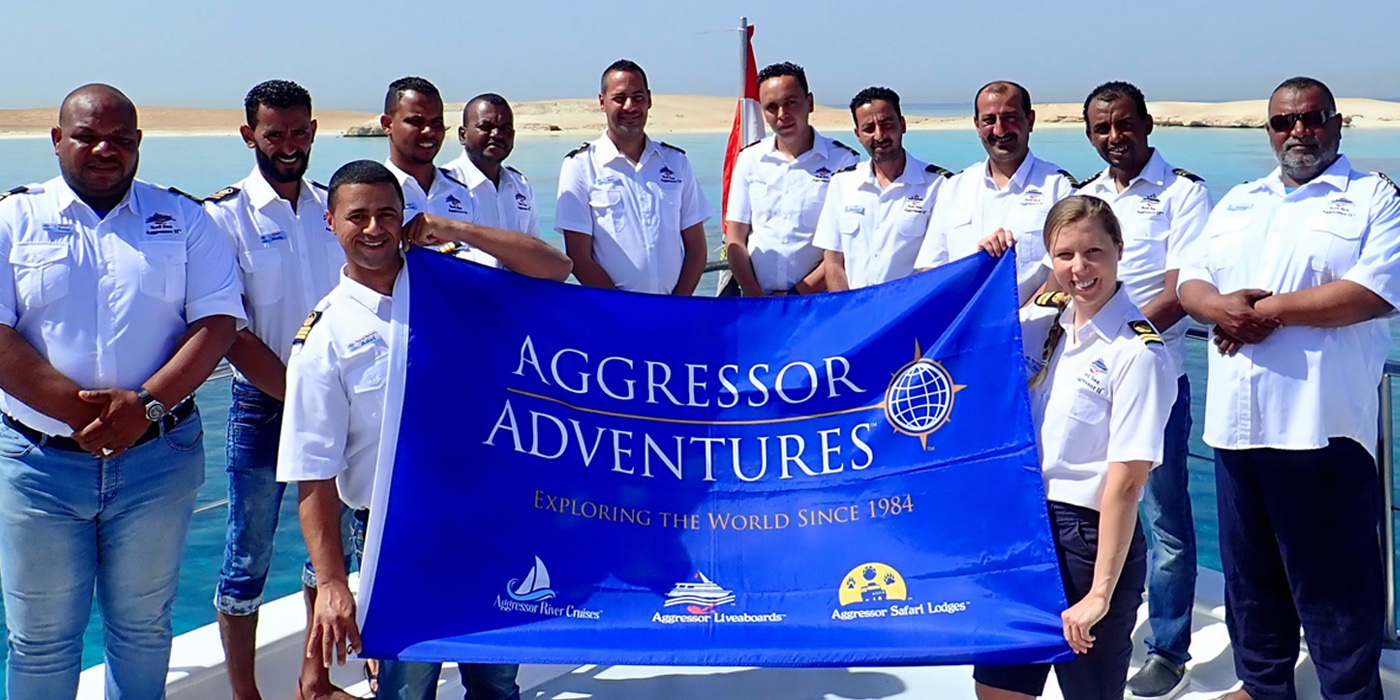 Captain Ahmed

Captain

Ahmed is from Qusier City and has been a captain for over 30 years. Ahmed is known as the father of the Red Sea to fellow captains as he has trained 100s of captains here. Ahmed spent many years also in Aggressor Oman, Saudi Arabia and Sudan before coming back to Egypt. Ahmed is very friendly and likes to laugh with all his colleagues and the guests. He always welcomes tours of his captain's bridge.

Adel

Cruise Director

Adel is from Cairo and has been diving in the Red Sea since being a child. Adel travelled the world following his dream of working as a dive instructor. Adel has large amounts of knowledge of the diving and boats in the Red Sea. Adel is a PADI IDC Staff Instructor, Trimix and SSI instructor and has over 10,000 dives in the Red Sea alone. Adel's passion is the Sea and he thrives when showing guests the magical underwater world and ensuring the boat runs smoothly so the guests have a wonderful trip.

Zoe

Dive Professional

Zoe was born in the UK and has been diving in the Red Sea for over 10 years. Zoe followed her passion and dreams years ago and started working on liveaboard boats. Zoe joined Aggressor when Red Sea Aggressor 2 launched in 2018. Zoe is a tech diver and Padi Master Scuba Diver Trainer Instructor with many specialties. Zoe has over 4000 dives in the Red Sea alone. Zoe gets the most joy out of showing people the underwater world, marine life and showing the magnificent wrecks to the guests.

Haitham

Chef

Haitham is from Menoufia City and has been working as a chef for over 17 years. Haitham spent his career on liveaboards in the Red Sea. Haitham takes pride of his work and loves experimenting with different foods and flavors. Cooking is his passion and he enjoys cooking for his family when not on the boat.

Mohamed

Chef

Mohamed is from Luxor and is our pastry chef on the boat. Mohamed takes charge of freshly making all the bread, desserts on the boat and finishing the plates for the chef. Mohamed has worked for many 5* hotels in Luxor and has been working as a chef for over 25 years. Mohamed is very creative and enjoys making the guests happy with his food.

Mito

Steward

Mito is from Tanta and has been working on boats for 10 years in Egypt and Sudan. Mostafa and Mito have been working together for 6 years and make a great team looking after the guests in and out of the boat. Mito is always smiling and happy. Mito loves to eat sunflower seeds all day long.

Islam

Seaman

Islam is from Hurghada. Islam is known by his nickname Tango as he is the joker and dancer on the boat. Tango has been working on boats all his adult life and gets involved in all aspects of work. Tango also holds a captain's license. He is a favorite amongst the guests for his constant singing and dancing!

Notice: Undefined variable: bios in /var/www/html/templates/staff_template.php on line 76

Warning: Invalid argument supplied for foreach() in /var/www/html/templates/staff_template.php on line 76