Page 4 - Aggressor Adventures Catalog
P. 4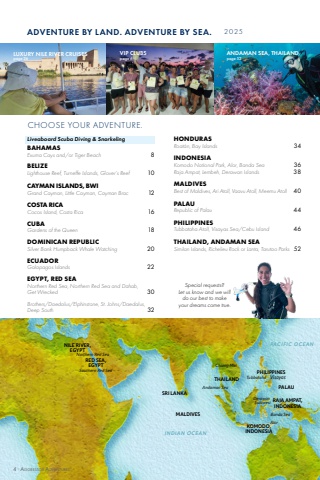 INDIAN OCEAN
PACIFIC OCEAN
Treating You like Family Since 1984
 When you scuba dive from aboard an Aggressor Liveaboard® yacht, explore the Nile on an Aggressor River Cruise® trip, discover
Sri Lanka's national parks from the Aggressor Safari Lodges®, or relax aboard an Aggressor Floating Resort®,
you're treated like family, because you are family.
   PACIFIC OCEAN
ATLANTIC OCEAN
  4 · Aggressor Adventures®
Bon Appétit
Our culinary artists create unique cuisine sure to satisfy every palate and will have you dreaming of your next meal. Mouth-watering snacks and baked treats are served throughout your Aggressor vacation.
Above, Below, Beyond!
 Climb to the peak of an ancient Sri Lankan fortress, swim with majestic whale sharks, or walk in the steps of Egypt's pharaohs. If you have a dream, Aggressor Adventures® can make it a reality!