The Oman Aggressor is a spacious 148ft. steel yacht with a 28ft. beam, built and powered for comfort, safety and stability. She is diesel powered, cruises at 12 knots and has 220-volt power.
Comfortable accommodations for 22 guests include 11 spacious staterooms each with an independently controlled air-conditioning, a private bathroom, picture window, large panorama window or porthole view, mirrored cabinet, hair dryer, fresh towels and volume controls. Each stateroom has a 32" flat screen TV offering a selection of over 400 movies, TV shows and documentaries. Guests will also be able to plug their computers into the TV screen to edit underwater pictures and video.
The Oman Aggressor has two master staterooms with a king, one suite with a king, and 8 deluxe staterooms, each with two twin beds. The yacht has a beautiful spacious salon, large sun deck with shading, Jacuzzi, chaise lounges and deck chairs, bar and a complete photo/video center.
The onboard video format is both NTSC and PAL. The yacht is not responsible for any lost, damaged or stolen items. We highly recommend extreme caution and care be taken if you plan to travel onboard with electronic equipment. This equipment should always be stowed after use to avoid the risk of damage.
Learn more about Dining Details & Sample Menus
Yacht Specifications
Port: Oman Depending on itinerary
Built and maintained to the specifications of the local regulatory agencies and the regulations of the country of the flag.
Length: 148 Ft
Beam: 28
Passengers: 22
Staterooms: 11
Staff: 13
Boarding: Saturday 3:00 p.m.
Check out: Saturday 8 a.m.
The Oman Aggressor has been an Aggressor destination since 2017.
Staterooms & Floor Plan
Deluxe Stateroom

A comfortable stateroom with two single beds, side by side, a private bathroom and shower, porthole and air-conditioned with an individual climate control.

ROOM - 1, 2, 3, 4, 5, 6

Rm Size: 14' x 11'

Twin Bed:

40" x 83"

Twin Bed:

40" x 83"

Master Stateroom

A comfortable stateroom with a private bathroom and shower, picture window and air conditioned with an individual climate control.
- Rooms 8 & 9 have two single beds that can be combined into a king bed (upon request).
- Rooms 10 & 11 have one king bed.

ROOM - 8, 9, 10, 11

Rm Size: 9.5' x 14.5'

2 Twins/King:

63" x 80"

King:

63" x 80"

Suite

A comfortable suite with a king bed, a panorama window, private bathroom and shower, and air-conditioned with an individual climate control.

ROOM - 7

Rm Size: 13' x 19'

King:

79 x 75 inches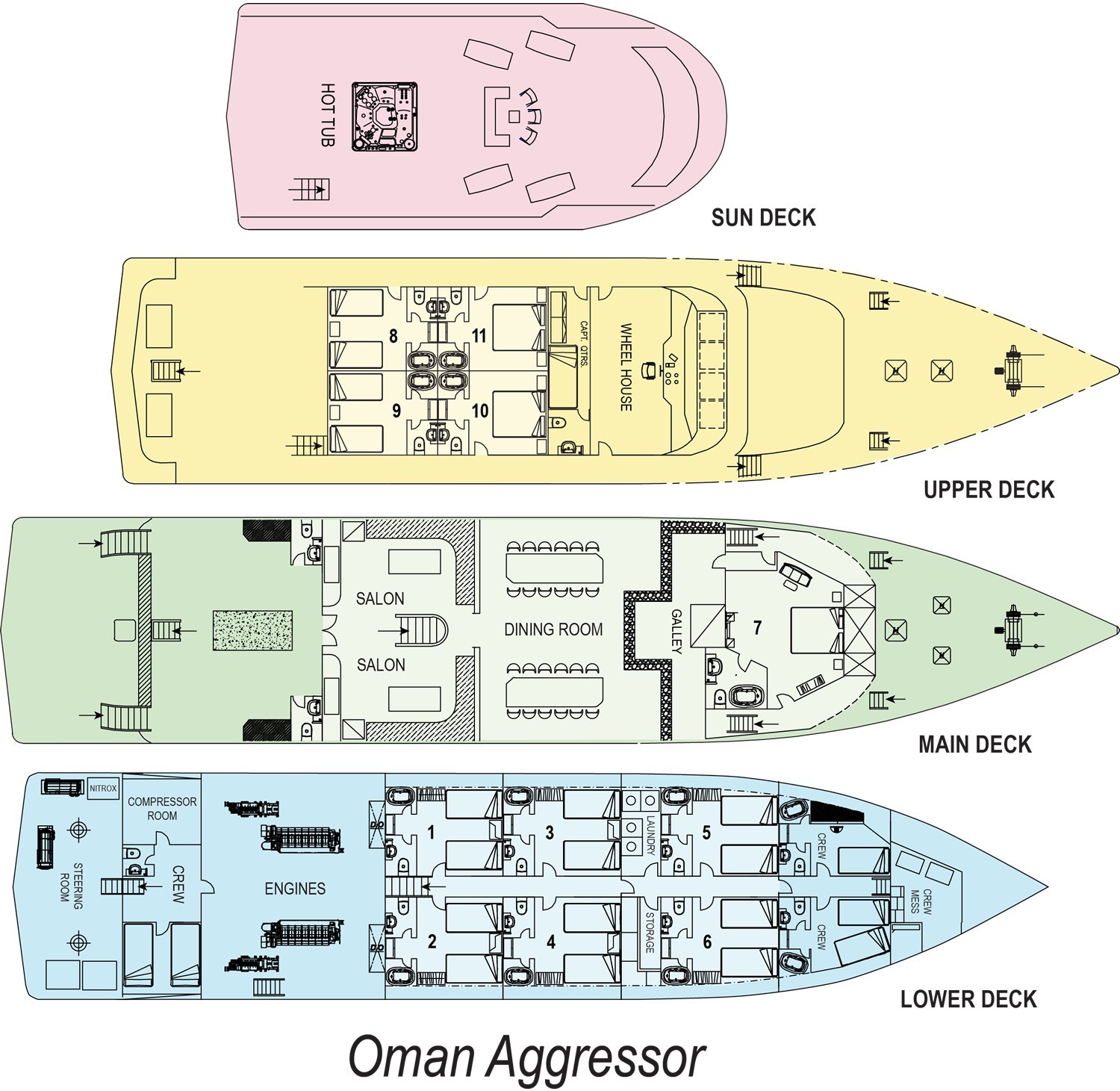 Dining and Sample Menu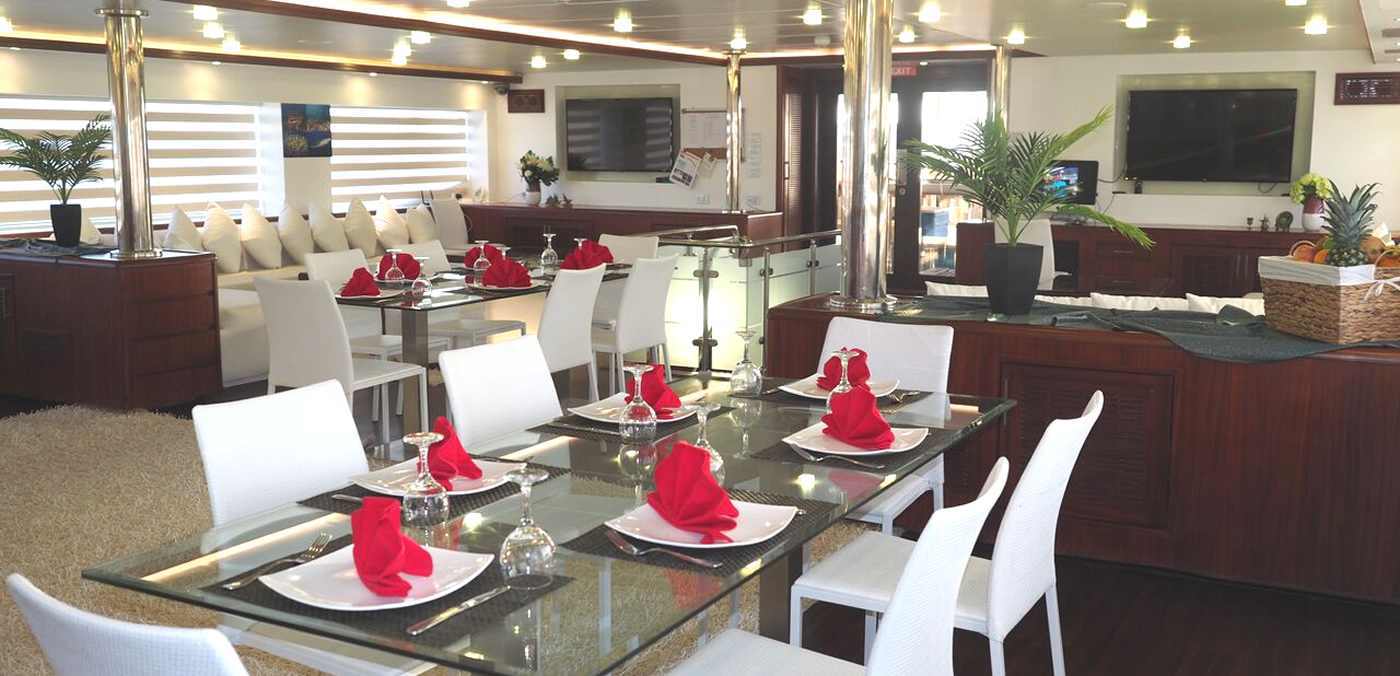 The menu aboard is varied and plentiful, with a variety of Omani feasts and local cuisine. If you have any special dietary requirements, please add this to your reservation through the GIS and speak to the yacht chef once onboard so he/she can adequately prepare to meet your needs. You will wake up to fresh fruits, hot entrees, cereals and juices. Lunches are buffet-style, featuring hot soups, homemade breads, salads and sandwiches and/or entrees. Dinners are chef prepared and served each evening and include salads, vegetables, seafood, beef or chicken with a fresh homemade dessert. Certain special dietary and beverage requests may not be available due to the remote nature of this location so we highly recommend you bring these items with you. (pork is not available)