Clean, Refresh, Sanitize
Caring for you is our priority
The safety and well-being of our customers, team members and destination staff remains our highest priority. As we welcome you to Aggressor worldwide, we are committed to providing you with a clean environment that aligns with our safety standards.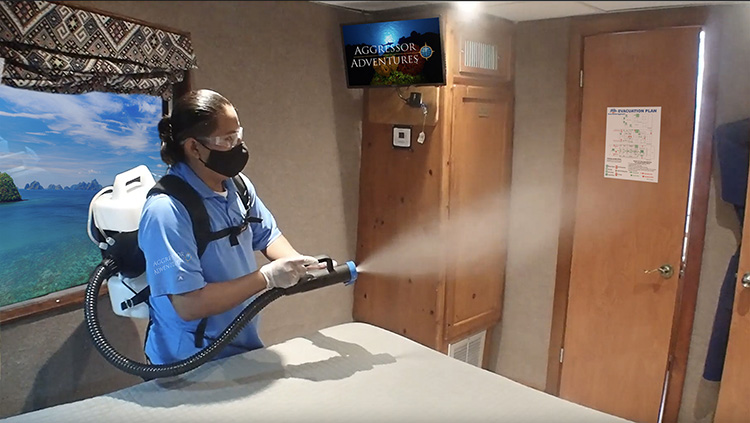 Below is an outline of the steps each of our Aggressor Adventure destinations takes to clean, refresh, and sanitize. As we look to restart our adventures, we all must acknowledge that things will be different. We must also recognize that we (staff and guests) have had unique, individual experiences, and what we experienced may be drastically different from what others experienced.
As such – in the future – the success of our current adventures will depend on everyone using common sense, approaching the matter with a sense of cooperation and civility. Communication will be more important than ever. Today's environment is a very fluid situation where changes may occur every day based on new information becoming available. The guidelines below are designed to be adapted to match the fluid conditions that may be experienced.
Below is a summary of steps that are being taken:
Utilizing sanitizing and disinfecting products that are approved by the Center for Disease Control (CDC, USA) or European Center for Disease Prevention and Control (ECDC, EU)

The product with the broadest availability worldwide is Sodium Hypochlorite (the active ingredient), otherwise known to everyone as household bleach. This product is effective against viruses, including Covid-19, with proper dilution.
Based on availability in each destination, other products may be used to enhance the disinfecting and sterilization process.
As supply becomes available, several destinations will be introducing electrostatic sprayers that will be used to disinfect all rooms and public areas.
As supply becomes available, some destinations are also introducing handheld UV Light sterilization for use on high contact areas, computer equipment, phones, tv remotes, etc.

There will be an increased frequency in cleaning / sanitizing tables, chairs, and hard surfaces in restaurants and salons. You may see some of this occurring during the day, and at other times it is performed by the night safety watch.

Throughout the day and night, staff will regularly sanitize hand-touched surfaces in all public areas, including handrails, doorknobs, handles, etc.

All guest rooms are serviced twice daily. Bathrooms and other frequently touched surfaces will receive extra attention.

Instructions are posted for proper 20-second hand washing techniques at all washbasins. Frequent hand washing remains the most effective way to prevent the spread of germs. Hand sanitizer will also be provided in all common areas.

Upgraded procedures for preparing a room for guest arrival are in place at all destinations. All soft goods are removed and washed in hot water and detergent. All hard surfaces are cleaned and sterilized. High-touch surfaces receive additional disinfecting attention.

Social Distancing: It simply is not realistic in all areas on yachts or the safari adventures we offer. Every effort will be made to utilize all inside and outside space available. Guests are (and have always been) welcome to take meals outside in areas such as cocktail decks or upper decks for more privacy and distancing.

Aggressor Adventures will not require the use of masks. If a guest chooses to wear a mask, they are welcome to do so. However, each guest should have a "mask management" plan that includes bringing a non-porous container to store masks in and keeping their box in a private space away from public areas. If local regulations require using a mask, it will be followed as closely as possible.

What is staying the same:
Our core fundamentals of "Eat-Sleep-Dive" and "Eat-Sleep-Adventure" remain. We will continue to offer incredible adventures of a lifetime in the most amazing destinations on the planet. Our staff will continue to provide service excellence, while our culinary teams will create great dining delights. Our corporate team will be out in the field, visiting destinations to ensure quality and consistency.
Thes
e
are the areas that may look different:
Self-service buffets are gone. However, the infrastructure in place may be used to present family-style dishes while a staff member prepares your plate according to your desire.
Mask and gear rinse buckets on dive liveaboards will no longer be utilized. Freshwater hoses will be available for rinsing.
Camera rinse buckets remain camera only. Equipment is to be dipped and then placed on the camera tables.
Staff will be utilizing more outdoor spaces for meals and briefings. Open-air and sunlight (UV) are effective deterrents
We have also developed new procedures for wellness.
All guests will undergo temperature checks before entering. Those with temperatures of 100.4F / 38.0C will be denied check-in and referred to local medical professionals for follow-up.
All staff will undergo morning and evening temperature checks.
Each destination has its designated quarantine procedures if someone develops symptoms. Note: A fever is not definitively COVID-19. In addition, each destination has enhanced cleaning and sterilization procedures to implement if someone does develop an illness.
Each destination is establishing medical referrals for anyone who becomes ill. This includes arranging transport to a shore-based facility for evaluation or remote support and evaluation when further away from facilities.
Staff will minimize contact with guests' gear and only handle second stages by the hoses and not by grasping onto the second stage itself.
Mask rinse will be done via a freshwater hose or saltwater dunking, as communal mask rinse buckets will no longer be available.
Briefings are to be done with spacing in mind, and guests will need to avoid crowding the dive site map area during dive briefings.
Remind divers not to share equipment.
Encourage divers to maintain at least 6 ft of distance when clearing their nose, sinuses, or throat at the surface or after a dive.
Encourage divers only to handle their own equipment.
Safari & Antiquity Tours Procedures:
Orientations and talks presented while on a safari or tour will be done with spacing in mind. Guests should try to avoid crowding the area around the guide.
All company-provided vehicle transportation will be cleaned and disinfected before guests board each day.
Hand sanitizer will be available on all company-provided vehicles.
When using taxis or other public vehicles, hand sanitizer will be available from the guide boarding.
When using taxis or other public transport vehicles, drivers will have their temperatures checked by the guide before allowing guests to enter.
During the safari and antiquity tours - avoid touching anything unnecessarily and avoid touching your face as much as possible.
Guests should only bring with them on safaris and tours equipment they can comfortably carry and handle themselves to minimize contact by others.
Snacks provided during safaris and tours will be pre-packaged goods rather than community service (such as cut fruit, snack platters, etc.)
Guests who choose to wear a mask need to have a management plan for handling the mask when not worn. This includes putting masks not in use into a non-porous container that can be stored on your person when on safari or tour.