Family Weeks
Spend Quality Time Diving & Snorkeling With Your Family

Our commitment to family friendly diving vacations began 30 years ago. There is no better quality family time spent than on a Family Week in the Caribbean.


Family Weeks combine a fun, safe and educational program for all ages from age five to older teenagers with a chance to spend quality time together while relaxing and diving at leisure.
Ages 5 - 17 get 25% off!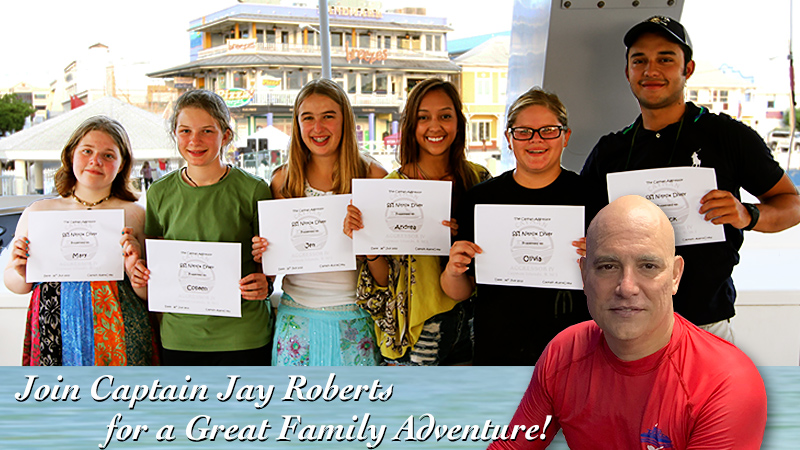 Complimentary for ages 5 - 17:
Family week gift
Certification Open Water Check Out Dives (ages 10 and older)
Various specialty courses will be offered throughout the week which will be complimentary and selected based on the group. (ages 10 and older)
Nitrox (after completion of specialty course)
UW Camera rental and course
Video production of the week
Family Friendly action-packed weeks are filled with activities:
Snorkeling
Scuba diving (youth 10 and over)
Shore excursions
Fish and coral I.D.
Beach combing, seashore creature I.D. and clean-up
Small boat handling and fishing
Underwater photography and video
Water safety and water oriented games
Local culture and customs
Specialty Courses

Voted Top 5 for Best Family Friendly Experience by the readers of Scuba Diving Magazine.



Meet Captain Jay
Captain Jay Roberts was born in Clearwater, Florida and grew up working in his father's diesel mechanic business after school. He has always loved being around the ocean. A certified instructor since 1996, he has enjoyed teaching and showing others the underwater world he loves so much. He is a graduate of Southern Arkansas University Tech in Computer Information Technology and practiced Architecture for eight years as an AIA member. He began working as the photo pro on board the Okeanos Aggressor in Cocos Island in 2002 and then went on to become Captain of the Belize Aggressor III. Jay holds a USCG 500-ton international captain's license and resides in Augusta, Georgia with his family.