CEO Wayne Brown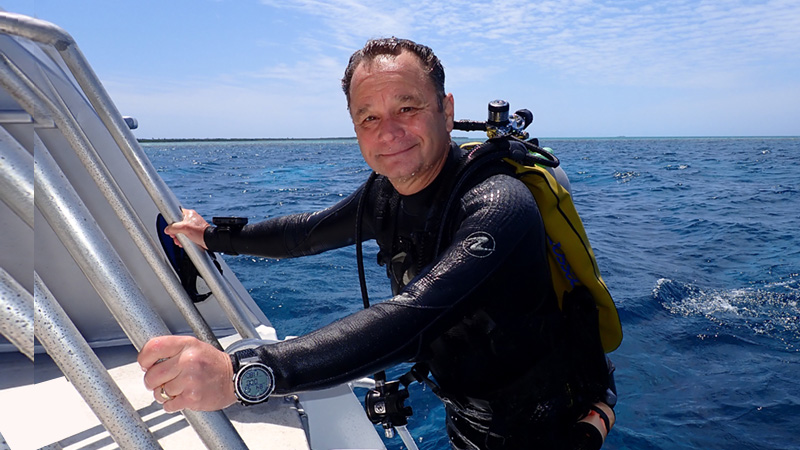 Our Guests Motivate Us Everyday
Every member of our work family understands the importance of providing our guests their Adventure of a Lifetime. It has and will always be the driving force behind every decision we make.

Join Wayne on the Aggressor Floating Resort
in Hurghada, Egypt
Mar 09, 2024 to Mar 16, 2024
Learn More about Aggressor Floating Resort, Hurghada
Wayne's History
I was raised on a small farm in an even smaller town in Florida. My earliest memories are traveling from Jacksonville, Florida with my family to West Virginia to visit my parents hometown and our relatives in the heart of Appalachia. Rugged mountain living in the smallest towns you can imagine. While it was a foreign landscape to where I was growing up, I never felt a connection to it as I did when we first visited the beaches in St. Augustine Florida. Not just wading into the saltwater and jumping into the waves but it was the exploring of saltwater ponds formed by the out going tide and my amazement at all the sea life in them. I would spend hours combing the areas for a new fish or crab while my siblings splashed and surfed in the waves. Middle school biology field trips to the local estuaries were as exhilarating to me as a trip to an amusement park.
My father was an 18-wheel truck driver and my mother drove a school bus. After graduating high school, I joined the US Air Force and was trained as a medic working in emergency rooms and flying aeromedical evacuation missions. After eight years, I wanted to do something different so I left the military and started working for Taco Bell Corporate. I was eventually able to work my way into the franchise system owning 60 Taco Bells, which I sold in 2006. I have always been a huge fan of service-oriented businesses and after two trips as a customer on Aggressor I was hooked on their commitment to service. I enquired as to the possible purchase of the fleet in late 2006 and found that it was for sale. The owner had recently died of an illness and the children were not interested in keeping it. I purchased Aggressor in April of 2007 and subsequently purchased a competitor, Dancer Fleet in March of 2008.
Aggressor started in 1984 as a way for passionate divers to get more bottom time without the hassles of hauling gear back and forth to the dock each day and having a great place to relax between dives. While that is still our model, we continue to evolve each year to now includes gourmet meals, fully air conditioned yachts and even hot tubs.
With Aggressor Adventures, I truly have that previously thought elusive role of loving what I do every day. Being able to deliver on my passion for excellent customer service, feed my love for adventure and photography, all the while leading a global, profitable business that employs hundreds of the industry's best and brightest amazes me every day. With all the companies I have had or still have, none are as rewarding as Aggressor Adventures!
Although we are a worldwide adventure company, I am conscious of maintaining the personal feel and attitude of a small company so that we can assure we stay in touch with our customers' needs and deliver on our commitment to you. We spend every day looking at ways to improve on what we know is our obligation to our customers to exceed their expectations on every adventure. Either myself or one of my operations staff visit every adventure, every year, to conduct quality assurance inspections and train the staff to perform up to our highest standards.
Four Brands,

One Family - Choose Your Adventure!