Most Traveled Guest



Aggressor Adventures Honors Most Traveled Guest of 2022


"We are grateful for the loyalty of guests like Phil and their commitment to our brand. His love of adventure and affinity for international travel is inspiring. We are pleased to recognize Phil as our Most Traveled Guest of 2022," shares Wayne Brown, CEO of Aggressor Adventures.
As a special thank you from Aggressor, Phil will receive a $1,000 travel voucher, a $150 Aggressor Boutique credit, and a Most Traveled Guest of 2022 Plaque. He hopes to start planning an extended adventure in the Asian Pacific for 2023.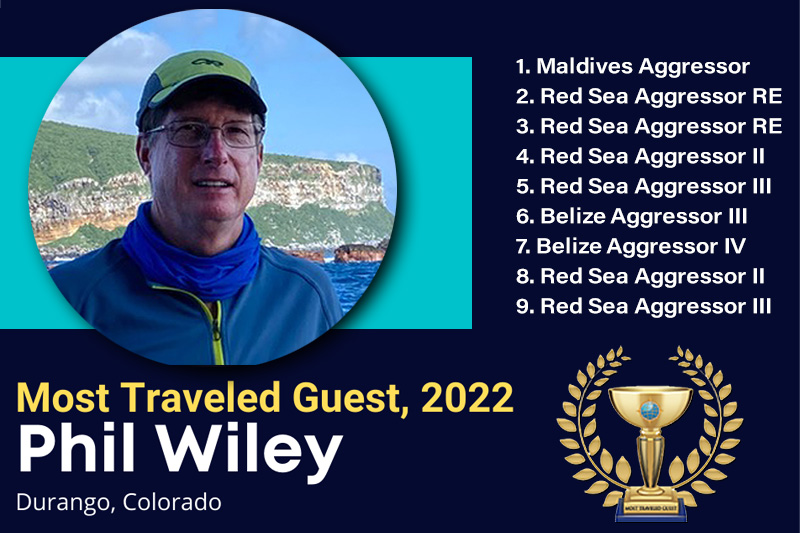 I was PADI certified in 1988 while in the Army in Hawaii. During that first year I did a ton of diving and took several specialty courses. I sold my gear when I was transferred to Europe. Got out of the Army, got married, started a family in Colorado and spent my time as a private solo ENT practitioner. My son and older daughter got SCUBA certified and I jumped back in after 26 years. Only now there were diving computers and not tables! Imagine that!

I enjoy mountain running and endurance long distance events (200 miles) and love the outdoors. But at 61 the knees are starting to overrule the desire. Diving seems to be an activity I can age into and I hate golf. I may hike all day in Colorado and get excited to see bear prints. With liveaboard diving, I jump over the side and wow, the wildlife is right there!! Diving also affords an opportunity to travel to areas I would likely not visit were it not for the diving.
We asked Phil for a short interview about his travels with us. Here is what he had to say about liveaboard diving with Aggressor Adventures.


How long have you been traveling with Aggressor?
January 2019 was the my first trip with Aggressor. Took my son to Belize aboard the Belize Aggressor IV. This was our first liveaboard. The Aggressor arranged a land tour of Belize which was also excellent.

What brought you back to Aggressor Adventures so many times this year?
Aggressor was excellent in helping to navigate international travel during the pandemic. It gave me confidence when trying comply with the various visa and testing requirements of different countries. The return testing services were great. The sales and discounts worked out especially well for me this year. I like to do back to back tours when I'm able and the schedule of the boats works out well to "jump" from boat to boat.

What was your favorite adventure you took with us in 2022?
The Red Sea has been my favorite destination this year. The quality and diversity of diving is outstanding and there is a strong international representation among the guests. I was fortunate to do 2 different Sudan itineraries when they were available which was excellent. The value of Red Sea diving is tough to beat.

How did you decide where to go next?
I scheduled most of the year at once. Scheduled Belize and Red Sea from the 12 Days of Christmas sale. I added the deep south Sudan itinerary after I did the south itinerary. A friend and I were going to take the Guadalupe Socorro trip but it cancelled. We were able to use the time to return to the Red Sea for the Red Sea II then the III.


How do you like solo traveling with the Aggressor Adventures?
What was especially nice during the past 2 years has been to spend time with new people. COVID did not seem to unduly preoccupy the guests and staff and it was great to connect with people as friends and not as potential sources of infection. Good general precautions were sensible and welcome (like getting rid of the common mask rinse bucket) but we were still able to "forget" about the pandemic in our relative isolation at sea. It was always kind of a shock to disembark back to "reality."


Do you shoot underwater photography? If so, what are some of your favorite things to photograph?
I like best to photograph scenes rather than a particular subject. I simply use my iPhone 11 pro in a Sealife housing and take lots of snapshots. Color correct with Dive+ and voila, done.


Have you ever taken any specialty courses while onboard?
I did the Nitrox course on the first boat. I've been diving it ever since.


Where do you plan to go next?
I need to get to the Asia pacific. I'm waiting until I can take 4-6 consecutive weeks off then hit it hard.
Four Brands,

One Family - Choose Your Adventure!