Travel With The Owner
Join Aggressor Adventures'
CEO Wayne Brown for a week of adventure, fun and memorable experiences.

Wayne is an avid scuba diver and underwater photographer who spends much of his time diving and exploring the world. Join him for an exciting adventure on Aggressor Liveaboards®, Aggressor River Cruises®, or Aggressor Floating Resorts™.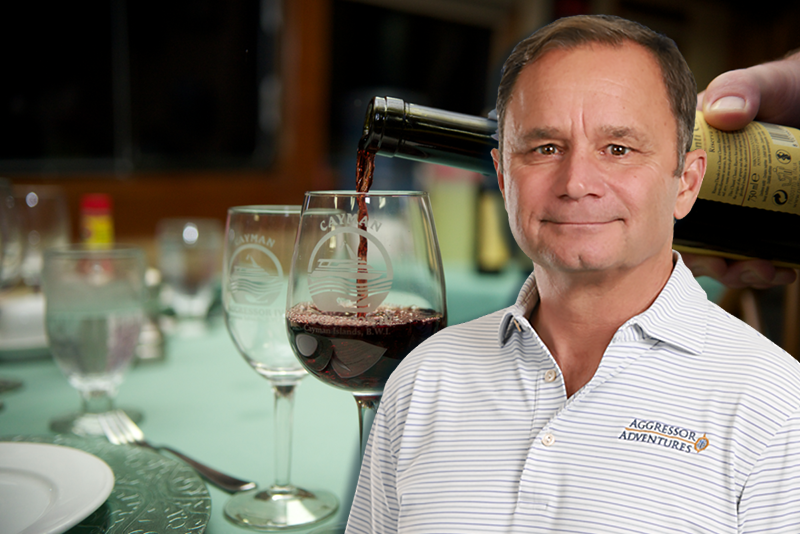 Wine Appreciation Week
Join Aggressor Adventures® CEO Wayne Brown for a wine appreciation and tasting charter. Sample unique vintages of red and white wines and learn impressive facts to tempt your palate for more. It will be a fun-filled week of sharing stories, toasts and fun facts about wine.

During the week, you will have the opportunity to view many of the videos of WineWorks, created under the direction of Wayne Brown. Expect great diving, great company and great accommodations all while learning about great wines. During the wine tasting charters, the dusk dives are offered (no night dives) so everyone can participate in the wine tasting at dinner.
Creature Feature Week
CEO Wayne Brown will give short presentations between dinner and the night dives about specific creatures. Learn how to tell the difference between a green back and a hawksbill turtle. Hear about the life cycle of an octopus. Ever wonder what jellyfish larvae look like or how a bull shark got its name?

Learn fascinating facts about the creatures you will encounter while on your liveaboard diving adventure.


Join Wayne on the Bahamas Aggressor


March 09 - 16, 2024



Book Now
Four Brands,

One Family - Choose Your Adventure!