Dive Equipment & Rentals
Aggressor diving adventures provides the following equipment to guests:
80 cu-ft tank filled with air using K valves
Weights and weight belts
Tanks with K valves will work with most standard regulators. A limited number of DIN valve adapters are available. If you require a DIN valve, we highly recommend you bring your own adapter.
These yachts accommodate K and DIN valves: It is not necessary to travel with an adapter: All Caribbean Aggressor yachts (except Jardines Aggressor I & II), Cocos Island Aggressor, Okeanos Aggressor II, Maldives Aggressor II, Philippines Aggressor, Aggressor Floating Resort, Red Sea Aggressor II, and Red Sea Aggressor IV.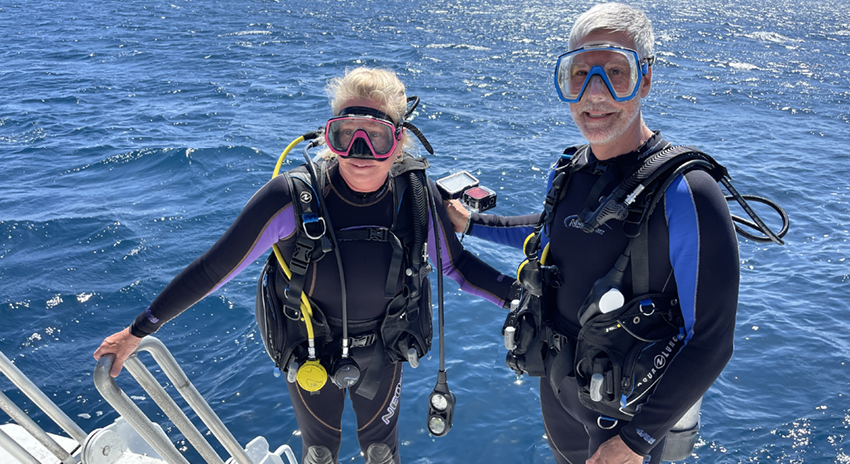 Aggressor Required Diving Equipment


All SCUBA diving activities are required to utilize the following equipment:
The following equipment is required for each diver (in addition to what is provided above).
Masks, fins, snorkel
Buoyancy Compensator with power inflator
Regulator system with 1st stage, primary 2nd stage, and alternate second stage
Submersible pressure gauge
Dive Computer
Recommended for each diver:
Exposure protection or wetsuit
SMB signaling device for deploying from depth with reel or spool (required in destinations diving from a tender
Surface signaling device (whistle or similar)
Reef hook (depending on the destination)
DIN valve adapter (if needed)
Gloves (unless the destination does not allow them)
Nautilus Marine Rescue Unit

Aggressor Loaner Program




Aggressor Adventures in partnership with Aqualung is pleased to offer guests a 'Free Loaner' during their cruise if a piece of equipment fails or if your luggage is lost during transit to the yacht. (based on availability)
Note: Yacht staff are not permitted to attempt repairs on the inner workings of guests' dive equipment, camera equipment or electronic equipment.
Nitrox Unlimited: $100
This includes all Nitrox fills at 32% for certified Nitrox divers. Proof of certification required.
7 night charters . . . . $100
8 night charters . . . . $125
10 night charters . . . $150
- daily rate is pro-rated by diving days


Nitrox Student Fills: $80
This includes all nitrox tank fills at 32% beyond the certification level and only available to those who take the course onboard.

7 night charters . . . . $80
8 night charters . . . . $105
10 night charters . . . $130

Nautilus Marine Rescue GPS
7 nights . . . $25 Maldives Aggressor II
(available complimentary on the Palau Aggressor II, Rock Islands Aggressor, Cocos Island Aggressor, Okeanos Aggressor II, & Galapagos Aggressor III)

100 cubic ft/15L Tank Rentals
The yachts make every effort to have a 100 cu. ft. tank available when requested but cannot guarantee availability. If the request is met, it will be on a first come first serve basis and the prices are:
7 night charters…. $75. 10 night charters…. $120.


Rebreathers - Aggressor Liveaboards® yachts are not able to support rebreather diving. Rebreather divers may be accommodated on private charters by special request.
Solo/Independent Diver Diving: All dives from Aggressor Liveaboards are buddy team dives. A buddy team consists of two or three individuals. Dive staff are not considered "buddies" unless the guest and dive staff member are the only individuals participating in the dive.
Sidemount Diving - Sidemount is a scuba diving equipment configuration which has diving cylinders mounted alongside the diver, below the shoulders and along the hips, instead of on the back of the diver. For logistical reasons, the Aggressor Liveaboards® will only accept sidemount divers using single tank configurations.
Underwater Photography
Today's compact digital cameras make it easy for first time u/w photographers to capture beautiful images and video. Aggressor Liveaboards offer photo courses and coaching on all yachts by photo pros.
If you would like to purchase a camera set up, we highly recommend contacting Backscatter.
Four Brands,

One Family - Choose Your Adventure!