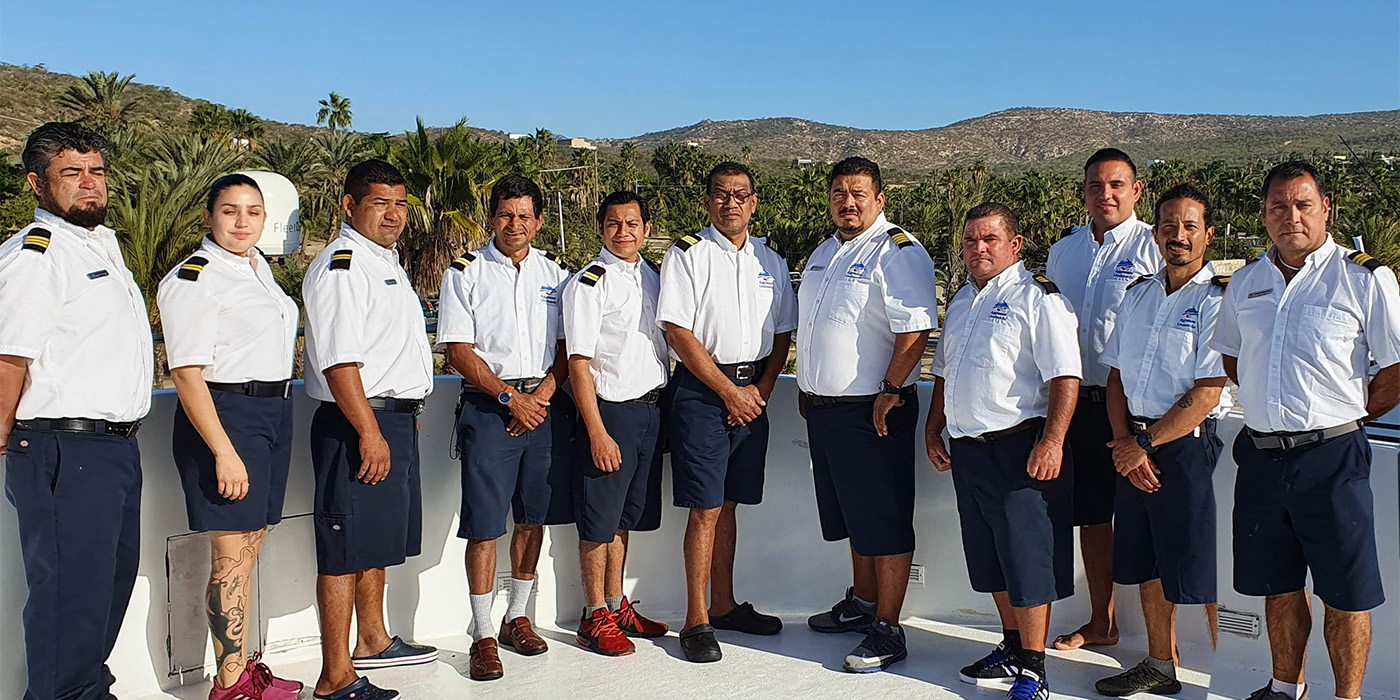 Francisco Javier Campos Ibarra

Captain

Born in Mazatlán, Sinaloa, México, Francisco comes from a family of Marine workers, with more than 25 years of experience in the ocean, from his humble beginnings as an apprentice after he studied thru high school, he has climbed all the way after being 2nd engineer, Cook, Chief Machinist and now Captain, onboard Fishing Vessels, Cabotage Ships and Touristic Operations.

As a Captain, Francisco has 15 years of experience, having sailed in the Americas and the Caribbean. In the Liveaboard industry, he has 6 years of experience doing cruises on the Revillagigedo Archipelago and the White Shark Refuge of Isla Guadalupe.

He has been captain of M/Y Socorro Aggressor since it began operations in the Mexican Pacific.

Gustavo Mouett Sánchez

Engineer

With 8 years in the fishing industry, and 12 years in the tourist industry, Gustavo has lots of experience thanks to technical schooling in General Mechanics, Hydraulic Systems, Air Conditioning systems, Power and Electrics, Desalinization Plants, High-Pressure compressor systems, and NITROX mixing systems.

He has been the operations engineer since Socorro Aggressor arrived to the fleet.

Salvador Javier Villalva

Head Chef

Salvador was born in Acapulco, Guerrero, México. In his early years, he attended school at the state of Guerrero. At the age of 20 he arrived to the port of La Paz, Baja California was working in restaurants in 1994, working for the Araiza Palmira Hotel where he began getting experience as cook. In 2009 he joined Club Hotel Cantamar as cook and has been the Head Cook of Socorro Aggressor ever since it started operations on the Mexican Pacific.

Jesús Antonio Vargas Lerma

2nd Chef

Born in Mazatlán, Sinaloa, Jesús began working as a fisherman onboard shrimp boats, getting experience as a salior, cook and 2nd engineer, for 9 years until he went onboard tuna boats as a sailor. Now having worked 5 years in the tourism industry, he works as Second Cook onboard Socorro Aggressor.

Christian Hiram Martínez Juarez

Sailor

Christian began as a sportfishing skipper, and worked as a sailor on tuna ranch boats, he has worked as a captain on small boats for snorkeling and SCUBA in La Paz Bay, visiting Isla Espíritu Santo, Jacques Cousteau Island and El Bajo Marisla. He loves the ocean, and now he has 4 years working on the liveaboard industry.

Christian was born in Excuinapa, Sinaloa, Mexico

José Alonso Tintoré Ornelas

Steward

Born in La Paz, Baja California Sur, José graduated from the Mayab Univeristy Studies College (CEUM) in Merida, Yucatan with a Bachelor of Gastronomy. He began working in hotels until 2016, when he began to work on lobster fishing boats in Puerto Progreso, Yucatán. He returned to his hometown La Paz to cater on private yachts fror 2 years as Cook, Steward, Host and Sailor, until last year, when he join Socorro Aggressor as a steward.

Samantha Villanueva Moreno

Steward

Born in Morelia, Michoacán, México, Samantha earned her bachelors' degree on Marine Biology from the Yucatán University in 2015. She is very passionate about underwater life and began taking SCUBA courses. She has now achieved Rescue Diver with PADI and SNSI and is took a rescue course with DAB. She previously worked with the National Fisheries Institute (INAPESCA) diving around the Yucatan peninsula, reporting on shark and ray marking for the South Border College. She also worked as Dive Center manager in La Paz and now working onboard Socorro Aggressor as steward.

Notice: Undefined variable: bios in /var/www/html/templates/staff_template.php on line 76

Warning: Invalid argument supplied for foreach() in /var/www/html/templates/staff_template.php on line 76