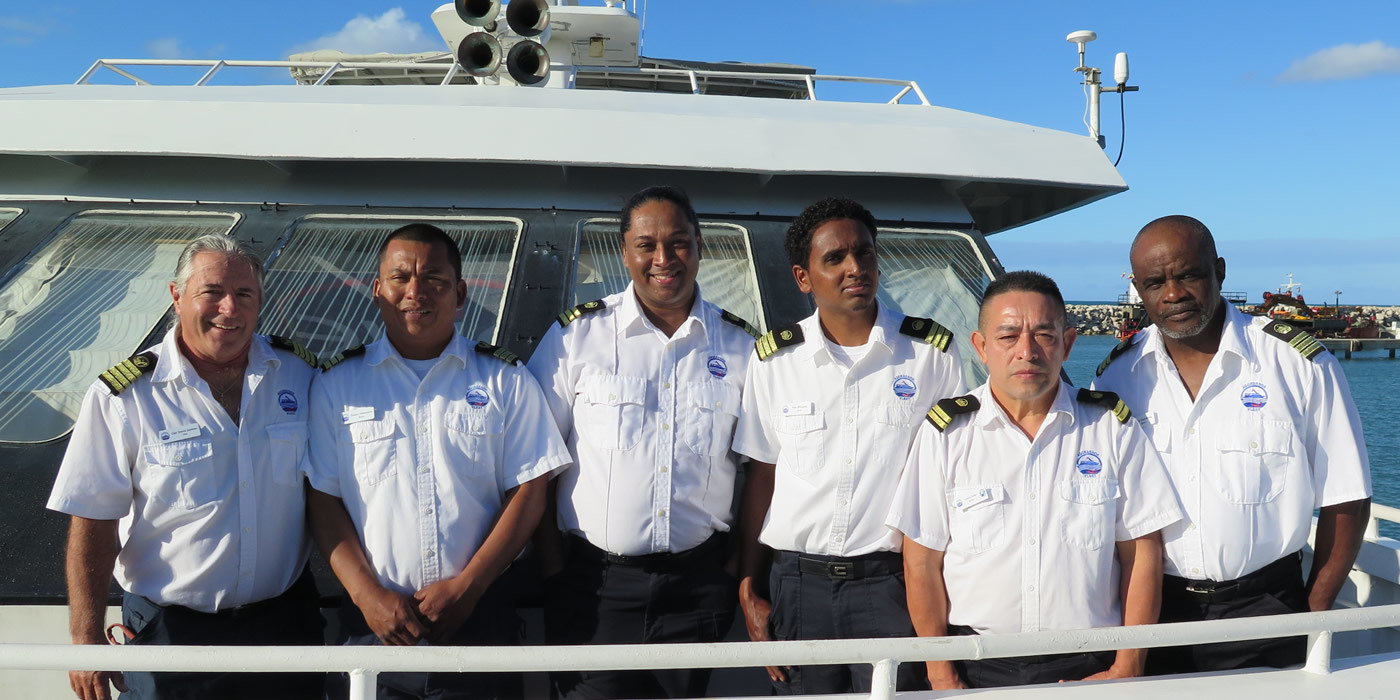 Shea Markwell

Captain

Shea is from Wichita, Kansas, but grew up in Atlanta, Georgia. He learned to dive at 12 years old in a lake in South Carolina, but despite that still grew up to love diving. He was a chef for over 20 years running gastropubs, fine dining restaurants, teaching for a cooking school, and owning a catering business. Shea started with Aggressor in the Bahamas aboard the Bahamas Aggressor. While there he worked first toward his divemaster, then his instructor certification. He is an avid underwater photographer and enjoys looking for the smallest and most obscure creatures in the ocean. He also worked in Turks and Caicos, both Aggressors in Palau, where he got his captains license. Aboard the Kona Aggressor, he became captain before being brought to Belize as a Captain. When he isn't working, he explores the world diving, riding motorcycles, and enjoying all the cultures he visits.

John Garraway

John Garraway is from St. Vincent and the Grenadines. He spent a few years working in the merchant marines before coming to Belize guiding fishing. In 1986 he had a friend working on the Aggressor and got a job working for both the Aggressor Fleets and Dancer Fleets ever since. Loving Belize he finally made his home here in 1982. After 35 years he still loves what he does and has become one of the favorite crew members.

Simon

Engineer/Dive Instructor

Simon was born in Belize city, but moved away when he was 7 years old to the northern part of the country. They moved to an area called Sertenaja Village in the Corozal District. The village he grew up in is a fishing village where the local's fish for lobsters, conch, snappers, and groupers during the season. He started diving in 2000, and in 2002 went to Costa Rica to do his Divemaster and assist in building an artificial reef off the peninsula of Montezuma on the Pacific coast. In 2002 and 2003 he worked monitoring whale sharks off the coast of Belize. Collecting data in the spawning grounds. From 2003 to 2010 he worked at a resort as Divemaster, Instructor, Dolphin Trainer, and boat captain for smaller boats. Then in 2010 he started working for Aggressor as an instructor and as an engineer.

Daniel Queme

Dive Instructor/Video & Photo Pro

Daniel Queme born in Belize City in the county for the earlier years of my I life. I got started in diving around 19 years of age around 2004 the same year. I finished my divemaster and in June of 2005 and completed my dive Instructor course. I have loved sharing teaching and showing other guests and divers the underwater world to this day. I have been working with Belize Aggressor III for 5 years and moved on to work on the Belize Aggressor IV since February of 2020. I am currently one of the dive instructor/video and photo pro aboard the vessel, but my greatest passion is photography I have grown to love taking pictures of our guest playing and having a great time under water. I also taking love photos of beautiful, colorful, sponges and corals not to mention fishes and other wildlife that just happens to pop up around you.

Jerry Carcamo

Head Chef

Hi, my name is Jerry Lee Carmano and I am currently the head chef aboard the Belize Aggressor IV. I have always had a dream as a kid growing up to be a chef, to travel around the world and to be on the high seas. And here I am 27 years later living my dreams. My passion for cooking all started with grandma and my mom in the kitchen. I was always in there seeing and learning all the little secrets and the love of cooking. After I finished junior college, I decided it was time to follow my dreams and live them. In 1995 the opportunity came, and I started my dreams working as a steward for a company named Oceanwide Expeditions. I started there as a cabin/dining steward and after five years I was the chief steward/relieving chef. In 1999 I met the previous owners of the Aggressor Liveaboards, and they offered me a chef position of one of their yacht in the Silver Banks of the Dominican Republic. I have worked in Grand Turk, and Provo in the Turks and Caicos. I've worked out of Grand Bahama and the Great Exuma Islands in Bahamas. In the Bay Islands of Honduras, and here in Belize. In Belize I have spent my years working close to home. I have two favorite dishes; one is my pan seared snapper with Banana Salsa and Baked Pork Chops with Creamy Mushroom Sauce. So, I invite you all to come and join us in Belize for a great week of diving and dining. Happy Cooking!

Carlos

Assistant Chef

Carlos is from Scotland Half Moon, Belize District. He's been in Belize City for over 50 years and cooked for the Belize Aggressor IV for 17 years. When he's not cooking on the boat, he enjoys working on his 5-acre farm, and loves to cook new recipes all the time. He occasionally explores his home country of Belize, and occasionally go to the beaches up in Mexico.

Jean

Sous Chef

Jean is from Crooked Tree Village in Belize. She has worked as sous chef aboard the Belize Aggressor IV for over 17 years, and loves getting to meet all of the interesting people that visit us. Jean loves to cook making this a perfect job. When she's off she loves to spend time with her family, her dogs, and traveling around her home country of Belize.

Elia

Steward

Elia is from Belize City, Belize. When she is off, she loves to relax, travel and watch TV. She has been working aboard the Belize Aggressor IV going on 18 years. She loves to smile and help guests around the boat with whatever they need. She has a happy, and easy-going personality. Elia loves her job and can't wait to see you all here soon.