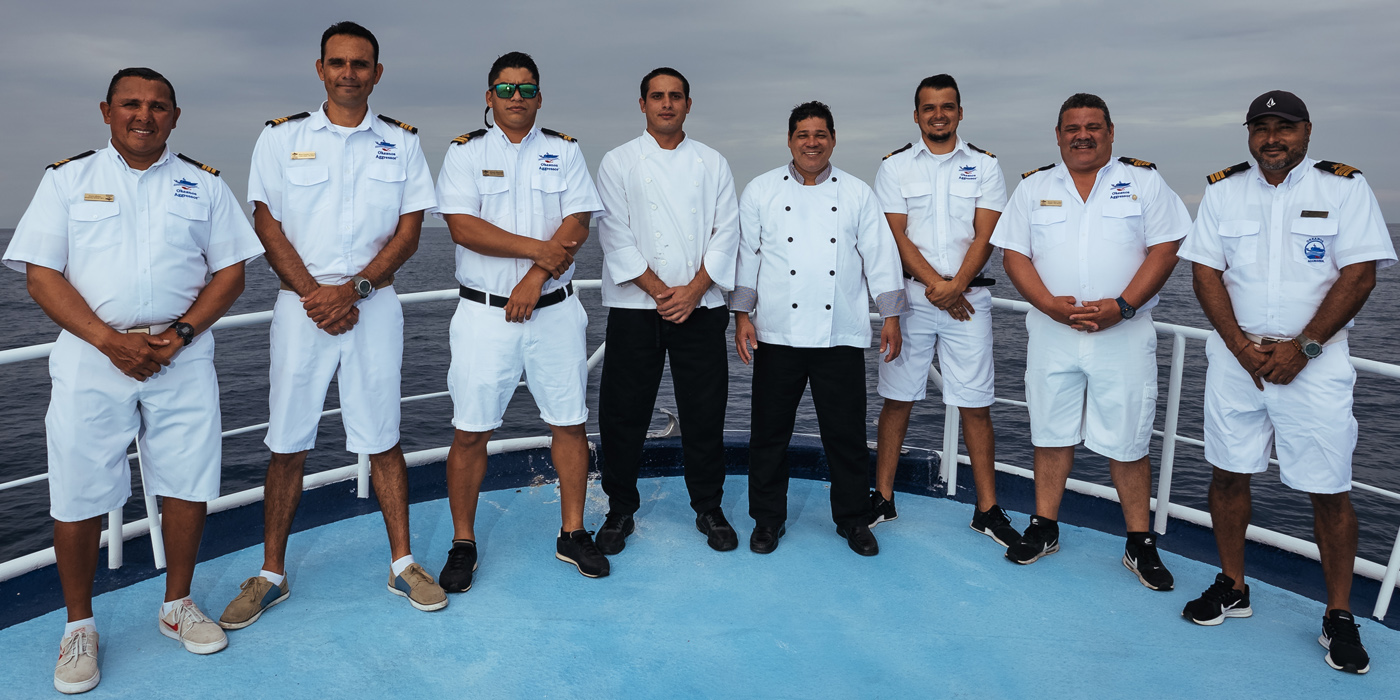 Mauricio

Captain

Mauricio started on the Okeanos Aggressor I as the engineer. From the start he was interested in working towards becoming a Captain. He has always very been involved with the success of yacht and one of the most resourcefull persons we know. Mauricio know the yacht insde out and is always working to make it the best it can be. He is very charismatic and always a joy to have onboard. Mauricio is a dive instructor and will be diving with you all week long. He is probably has more dive hours in Cocos island than anyone. He is native from Liberia Guanacaste.

Warren

Cruise Director/Dive Instructor

Warren has been diving the Cocos Island since 2005, he knows every underwater rock and crevice around the island. He is also a great videographer and will be taking videos of the dives for guests to take home. Warren is from Puntarenas and has been with us for about 10 years. He is always excited to dive and share the wonders of Cocos Island with our guests.

Julian

Engineer

My name is Julian and I am originally from Heredia, a province of Costa Rica.

My mom is from Canada and my dad is from Costa Rica but I have lived all my life here.

One of my passions together with the ocean is mechanics so this is my dream job, to be able to do all I love as a way of living.

Douglas

Head Chef

Douglas has been with Okeanos for over 20 years working as the main chef, he is one of the hardest working persons on the boat, he will be up early in the morning preparing breakfast and the wonderful meals you will have onboard for the rest of the day. Douglas has been part of the Okaeanos Family practically since the beginning of our journeys to Cocos Island. He was born and raised on Puntarenas.

Luis

Panga Driver

Luis, Also called Lito by his friends and guests is a panga driver on board Okeanos Aggressor I. He will always be there waiting for you with a smile before and after the dives. Lito is also training to become a certified Dive Master and you will be seeing him from time to time underwater. He is from Puntarenas City and has been with Okeanos for about 10 years.

Alberto

Panga Driver

Alberto has a a background in culinary activities, he started with Okeanos as the assistant chef and since the beginning when he saw the wonders of Cocos Island he was eagered to get into the water, He soon became a panga driver and is now in training to become a Divemaster. He loves to be underwater and to help our guests on the zodiac. Alberto has been with the company for 3 years and is eager to keep growing as a dive professional.

Marcos

Steward

Marcos has been with the us for 2 years. He is always willing to learn new things and is eager to continue on his journey to becoming a the dive professional. He is now training to be a divemaster and he will be constantly looking to have the boat in great shape, clean and ready for our guests to enjoy. He is from the local city of Puntarenas, Costa Rica.