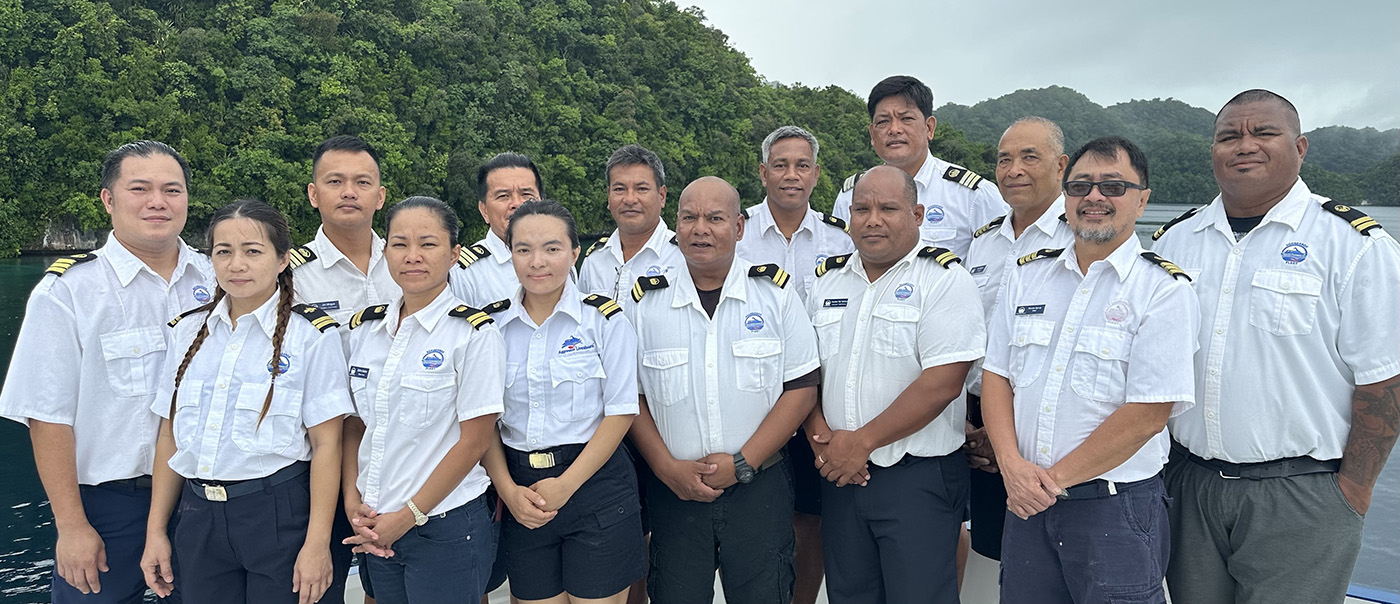 Scott Arni

Captain/Operations Manager
Palau Aggressor II & Rock Islands Aggressor

Scott was born in Pennsylvania and started diving when he was 15 years old while in the Boy Scouts. Later he became a Captain and dive instructor while working at the Florida High Adventure Sea Base which is a High Adventure operation run by the Boy Scouts of America. Scott has been working on Liveaboard dive vessels for the last 22 years. Scott has worked on the Cayman Aggressor, Okeanos Aggressor, Belize Aggressor, Bay Islands Aggressor, Fiji Aggressor, Kona Aggressor, Turks & Caicos Aggressor, and currently on Palau Aggressor & Rock Islands Aggressor.

Ike Mingoa

Captain/Dive Master/Video Pro

Ike was born in the Philippines and came to Palau in 1986. He started working on the water as a skiff driver for Neco Marine and was the personal skiff driver for the President of Palau for 2 years. In 1994 the Palau Aggressor came to town and he has been working with Aggressor Liveaboards ever since, Ike is our longest working crew member and moved up the ranks to captain of the Rock Islands Aggressor in 2010. Captain Ike handles engineering and is also a dive master and will be in the water on several dives a day as well.

Feliciano M. Flores

Engineer/Divemaster
Palau Aggressor II & Rock Islands Aggressor

His given name is Feliciano M. Flores Jr. but everyone just calls him June. He was born and raised in the Philippines and started working on boats in the Kapel-Subic dry docks/ship yard. June moved to Palau in 2004 and opened his own small repair shop. June worked off and on for the Palau Aggressor II when they needed him but eventually started working full time on the Palau Aggressor II and Rock Islands Aggressor in 2015. June is now a dive master and loves spending most of his time diving rather than in the engine room.

Jay Naguit

Divemaster/Engineer
Palau Aggressor II & Rock Islands Aggressor

Jay was born in the Philippines and has lived in Palau since 2005. His first job on island was as hotel maintenance man for 5 years. Then he started working for the Palau government as a maintenance man as well. In 2012 he started working for Aggressor Liveaboards on the Rock Islands Aggressor and got open water certified and moved up the ranks to dive master. In 2019 Jay became the engineer on the Palau Aggressor II.

Ernan Dukah

Engineer/Divemaster/Videographer

Originally from Baler, Aurora in the Philippines he first came to Palau in 1999. Ernan started working as a boat operator and dive master in 2001 with a land based company. He took out people from PADI to dive the beautiful islands of Palau and is shown on the cover of PADI'S Rescue Diver Manual. He made his way back to the Philippines in 2007 and worked as a dive master all over P.I. He also worked as a safety diver and crew for the hit T.V series Survivor when they filmed in the Philippines while working as a manager of a local dive shop. He returned to Palau in August 2014 and has been working as a dive master/engineer/video pro ever since. Ernan enjoys underwater photography and play basketball in his free time.

Meno Gentapan

Divemaster/Chef

My name is Meno Gentapan born and raised in Quezon City Manila,Philippines. Before I moved to Palau, I worked in the Philippines as Bartender in different Hotels in Manila and I decided to come to Palau in the year 2001 and started working at a couple restaurants as a Bartender/Chef. I also started diving and went from open water to rescue, all the way to Dive Master. In 2015 I started working for the liveaboards in PALAU as a Chef. In the year 2017. I opened a restaurant in Palau but still loved being on the water so I started working for Aggressor.

Ripon Debnath

Divemaster

Born and raised in Bangladesh, Ripon was able to come to Palau through an invitation from his friend. He started working as a security guard for the Palau Aggressor II and was eventually certified to be a diver. In 2013 Ripon became a full time worker on board the Palau Aggressor II/Rock Islands Aggressor as a dive master. Ripon enjoys finding and showing the rare crocodile fish to all the guests he leads while diving. Currently he's the President of the Bangladesh Association in Palau.

Ramil Villa

Chef
Palau Aggressor II & Rock Island Aggressor

Ramil was born and raise in Angono Rizal Philippines known as the Art Capital of the Philippine. He learned a lot about creative food presentation and enjoys sharing his talent with our guests. Ramil has also work in Dubai and Armenia Russia where he had the pleasure of preparing food for the Ambassador Qatar and the US Ambassador. Ramil believes it is very important to have passion for what you are doing to become success in life…

Beau Sawaichi

Divemaster/Tender Operator
Palau Aggressor II & Rock Islands Aggressor

Beau a Dive Master and Skiff Operator and has been working in the tourism industry for over 11 years. He began working for Aggressor in Palau in 2021. He loves the water and is passionate about sharing this underwater world with our guests from around the world.

Vito Markub

Tender Operator
Palau Aggressor II & Rock Islands Aggressor

Vito Markub, was born and raised in Palau. He has worked in the Tourism Industry for over 20 years and worked for the Aggressor since 2000 as a Skiff Operator. Vito has enjoyed his work with Aggressor Adventures and the guests who visit his island.

Daniel Paulo IV

Dive Instructor/Cruise Director
Palau Aggressor II & Rock Islands Aggressor

Daniel came to Palau in August 1997 and worked as a steward at one of the first Chinese fine dining restaraunt on the island. He began in 2000 and became an Open Water Scuba Instructor in 2011. Daniel held the position of Instructor/Supervisor at one of the land based dive shop for 18 years. In 2022 he joined the Rock Island Aggressor as Cruise Director and Dive Instructor.

Ana Liza A. Bohisan

Stewardess
Palau Aggressor II & Rock Islands Aggressor

Ana is 44 years old and from the Philippines. She worked as a beach resort receptionist in the Philippines for 3 years. After moving to Palau 5 months ago, she joined the staff of the Palau Aggressor II as a Liveaboard Stewardess greeting and welcoming guest, managing accommodations and fullfilling requests. Ana is says she is happy and takes great pleasure in serving her Aggresssor guests.

Jake Oiterong

Skiff Operator
Palau Aggressor II & Rock Islands Aggressor

Jake is 43 years young and was born and raised in Palau. He has worked in the dive industry for past 20 years. Jake will be your skiff driver while on the Palau Aggressor and takes pride in helping to make your trip an unforgettable one.