Culinary Delights
Our chefs are culinary artists, who create unique masterpieces that tantalize your palate and have you dreaming of your next meal.
As our guest, you will enjoy up to three delicious meals a day plus mid morning and afternoon snacks at each Aggressor liveaboard, river cruise or safari lodge. Menus are varied and plenty with a variety of American feasts, local cuisine and barbecues. You will awaken to fresh fruits, hot entrees, cereals and juices. Lunches feature hot soups, homemade breads, salads and sandwiches and/or entrees. Dinners are chef prepared and served each evening and include salads, vegetables, seafood, beef or chicken with a fresh homemade dessert.
* Once onboard, please speak to the chef about any special dietary restrictions. Certain dietary and beverage requests may not be available due to the remote nature of the location.
Join Chef Komang, of the Raja Ampat Aggressor


Red Snapper, Roasted Baby Potatoes, & Vegetable Julienne is the fare of the day. Watch as Chef Komang prepares this delicious meal and shares his tips & tricks for making it perfect for your family & friends. YUM!
Featured Chef -
Chef Jerry Carcamo
---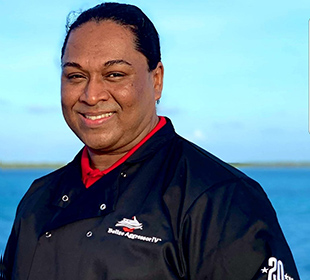 Jerry Carcamo, Head Chef of Belize Aggressor IV®
Chef Jerry has worked with Aggressor for over 20 years. He started his liveaboard career on Wind Dancer on the Dominican Republic humpback whale charters and then worked on other Dancer Fleet yachts for several years before finally coming home to work on Belize Aggressor IV®, here in his home country of Belize. He is from the north of the country, from a small town called Corozal near the border with Mexico, and says that he loves working with his extended family. He also loves getting to meet so many interesting people each week. Jerry's passion is cooking and his favorite dish is Roast Duck.