Most Traveled Guest
Aggressor Adventures Honors Most Traveled Guest of 2021

"We are grateful for Sandi's loyalty and commitment to our brand. Her love of adventure and affinity for solo travel is inspiring. We are pleased to recognize Sandi as our Most Traveled Guest of 2021," shares Wayne Brown, CEO of Aggressor Adventures.
As a special thank you from Aggressor, Sandi will receive a $1,000 travel voucher and a merchandise package from the company's retail boutique. She is already planning her next adventure this spring aboard the Belize Aggressor IV, known for its incredible diving experience.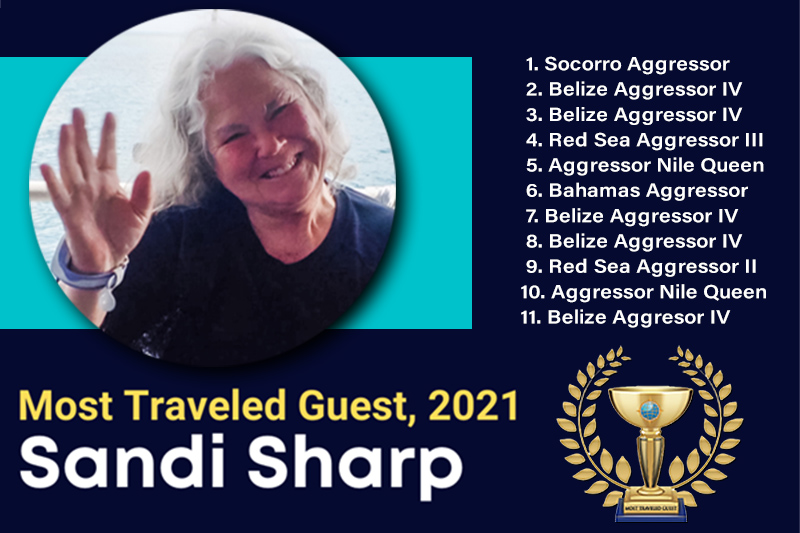 Sandi Sharp is 68, a resident of Colorado Springs, CO and a local scuba diving store employee. She traveled with Aggressor 11 times last year. As a solo traveler, Sandi enjoyed escaping Colorado's cold weather for warmer destinations and making new friends wherever her adventures with Aggressor took her in 2021.
"It's a pleasure to travel with Aggressor. From start to finish the experience is one-of-a-kind. As a solo traveler, their staff always makes me feel incredibly comfortable and safe. Whether it's the Roatan Aggressor, Nile River Queen or any of the amazing vessels in Aggressor's fleet, I know when booking travel with Aggressor it will be first class," explains Sandi.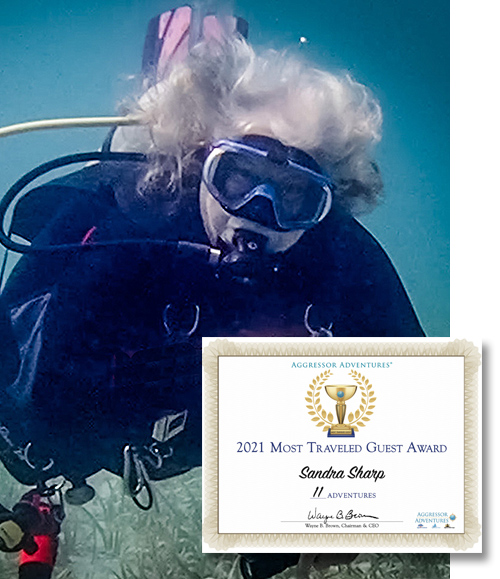 We asked Sandi for a short interview about her travels with us. Here is what she had to say about liveaboard diving with Aggressor Adventures.
What brought you back to Aggressor Adventures so many times this year?
Liveaboard diving is my favorite type of diving. The Aggressor offers the best all inclusive experience for me. I do not have to carry my gear to and from the day boats along with setting up and breaking down daily. The meals are excellent and depending on the location it is not far to the first dive of the day. Aggressors service I have found to be excellent in the all around trip package. This was a "no brainer " with the restrictions last year.


What was your favorite adventure you took with us in 2021?
My favorite adventure with the Aggressor is difficult to single out as each location had their own individual attractions. I enjoyed all my trips - some do leave special memories with me. Just to mention a few, RSA II with the wrecks and beautiful colored reefs, The Belize experience with their sharks, Tiger Beach - must be included, and the Nile Queen with the rich historical sites and great education opportunities.


How did you decide where to go next?
My trips just fell into place around some pre arranged trips thru the dive shop. I work in Colorado at Troy Juths' Underwater Connection and schedule my trips around my personal time. Lots of things go into deciding what is next. My personal preferences, my personal time ,limited airline schedules, Aggressor promotions, warm water, and Country requirements including entrance and exit.


How did you find travel during the Pandemic?
Traveling during the Pandemic was challenging at best. Cancelled Airline flights at last minute were difficult. Rescheduling to make Aggressor departures and return flights home were also frustrating at times. Countries changing their entry Covid requirements shortly prior to your travel added to travel difficulties. If you were willing to adjust to these possibilities then it was doable most of the time.


How do you like solo traveling with the Aggressor Adventures?
Solo traveling with the Aggressor Adventures has it own unique flavor which can be difficult at times. Sometimes it is difficult to find dive buddies to travel with and if not for solo travel, I would not be able to dive very much. I have been very lucky as I have meet several nice folks who have in common the same desire for the under water experiences from around the world.


Where do you plan to go next?
I am still planning my next adventures. Spring is Belize, hoping for more openings in the Pacific to become available.