The Aggressor Adventures team provides guests with the most up-to-date information regarding upcoming trips. Please check this page and the "Know Before You Go" document at the time of booking and in advance of your adventure to ensure you have everything you'll need before you head out.
Download The Complete Know Before You Go
---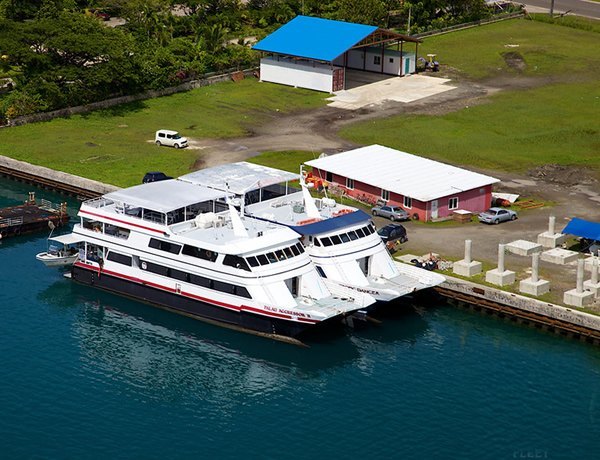 Getting There, Passports & Visa Documentation Palau
Palau is located 900 miles southwest of Guam and 400 miles south of Yap, at the westernmost edge of Micronesia. Palau is north of New Guinea and east of the Philippines. It is surrounded by warm, tropical water with spectacular reefs, walls and wrecks, making Palau a diver's paradise.

Airlines fly into Koror (ROR) International Airport: United, Korean Air, Asiana Airlines and China Air.

Visitors must have a current passport, adequate funds to support themselves, and a return airline ticket. US citizens require a passport that must be valid for 6 months from date of entry. It is the travelers' responsibility to ensure they have the proper visa to travel into each country on his or her itinerary as well as for re-entry and return to their country. Since regulations vary by country, contact your consulate or embassy of your country for the requirement.


Arrival/Boarding/Departure Palau
Guests arriving at the Koror (ROR) International Airport on Sunday evening will be greeted by a uniformed crewmember or a Neco Tourist Agent. There are no phones or taxis at the small airport so we may assist in your transfer to the yachts The PALAU AGGRESSOR II® & ROCK ISLANDS AGGRESSOR® are moored in front of Neco Marine (Malakai) Harbor in Palau. If you are already on the island, you may begin boarding at 4:30 pm on Sunday. Guests may board the yachts up until Monday morning, the boat departs the dock at 6:00 am. After a week of diving the yachts returns to the dock Saturday afternoon after lunch. Checkout is Sunday morning at 8 am. The staff will assist organizing transportation to either the airport or a local hotel if you are extending your stay.


Transfers
Transfers are not included in the charter price. We can prearrange transfers through Neco Marine in advance, however these are not included in your charter and must be done in advance:

- Airport to Yacht/Yacht to Airport - embark/disembarking on charter days: $30 per person.- Hotel located close to the Yacht - embark/disembarking on charter days: $10 per person.

- Hotels not located close to the yacht - embark/disembarking on charter days: $30 per person.

Guests can pay Neco Marine while on the bus or they can pay at the Neco Marine store at the end of their trip.

Taxis are not readily available at the Koror airport. All transportation must be pre-arranged. Prices are subject to change without notice.


Local Fees/Taxes
USD $240 (7 nights) & $270 (10 nights) Port Fee

There is a 10% VAT tax on all onboard purchases that is imposed by the Palau Government. These fees must be paid onboard the yacht by MC/Visa or US cash.

GRATUITIES
Gratuities are not included at all Aggressor destinations. Tipping is voluntary and based on the service the staff has provided you. The Manager will provide envelopes for gratuities upon settling your account at the end of the week. Gratuities are shared equally among all staff. All Aggressors accept cash, Visa, and MasterCard payments for gratuities.