The Bahamas Aggressor is a 100' yacht with a wide beam. Built and powered for comfort, safety and stability, she is diesel-powered, cruises at 12 knots and has 110-volt power onboard. All staterooms are equipped with standard US outlets and USB ports for charging electrical devices. Accommodations include 5 deluxe staterooms with a double and single berth and 1 quad stateroom with two sets of twin beds. All staterooms have climate controls.
The Bahamas Aggressor sleeps 14 guests in privacy and comfort. She features a roomy, air conditioned salon and dining area, sun deck complete with a hot tub, lounge and deck chairs, outdoor stereo system, shaded cocktail deck, grill, and a photo editing computer for guests. Diving amenities include individual dive lockers, camera table with low-pressure air hoses, and two hot, fresh water showers.
There is a variety of nightly entertainment, including diving, fish identification presentations, movies, games and more. If you have a favorite movie or digital presentation to share, we encourage you to bring it along. The staff especially loves new releases of movies, recent magazines and books. A small library of books for exchange is maintained onboard as well as fish identification books for reference.
All meals, snacks and beverages are provided.
See Sample Menu
Yacht Specifications
Port: Nassau, Bahamas
Built and maintained to the specifications of the local regulatory agencies and the regulations of the country of the flag.
Length: 100 ft.
Beam: 22
Passengers: 14
Staterooms: 6
Staff: 6
Boarding: Saturday 3 pm
Check out: Saturday 8 am
The Bahamas has been an Aggressor destination since 2012.
Staterooms & Floor Plan
Quad Stateroom

With two sets of twin bunk-style beds. Private head and shower, port windows, individual climate control, monitor with media player and hair dryer.

ROOM - 1

Rm Size: 11' 0" x 6' 6"

Top Bunk:

30" x 74"

Lower Bunk:

30" x 74"

Top Bunk:

30" x 74"

Lower Bunk:

30 x 74 inches

Deluxe Stateroom

Double bed (lower) and twin bed (upper) bunk-style. All with private head and shower, port window, individual climate control, monitor with media player and hair dryer

ROOM - 2

Rm Size: 6' 7" x 6' 10" feet

Top Bunk:

30" x 74"

Double:

53" x 74"

ROOM - 3 & 5

Rm Size: 6' 3" x 6' 10"

ROOM - 4 & 6

Rm Size: 7' 3" x 6' 3"

Top Bunk:

30" x 74"

Double:

53" x 74"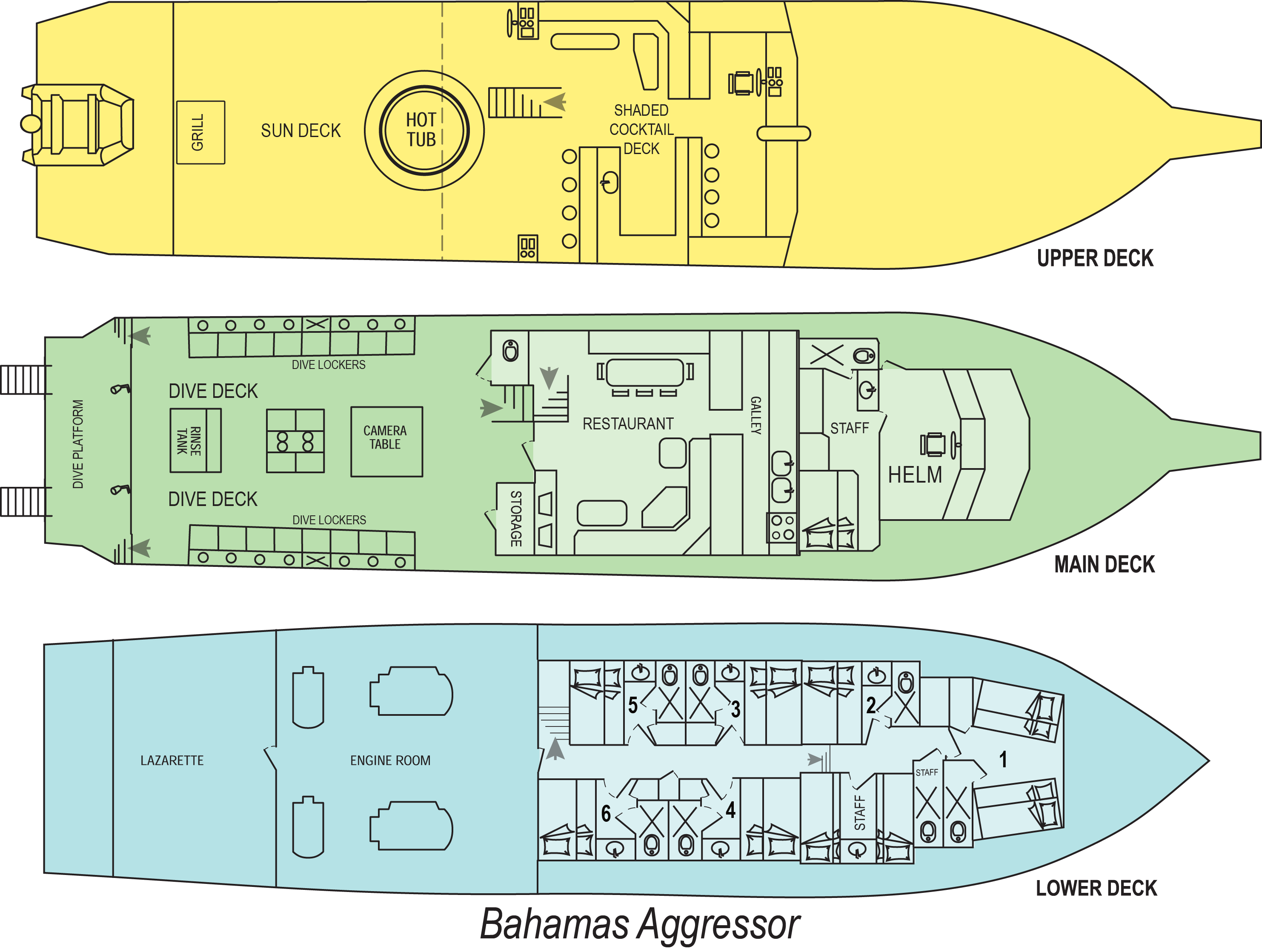 Dining and Sample Menu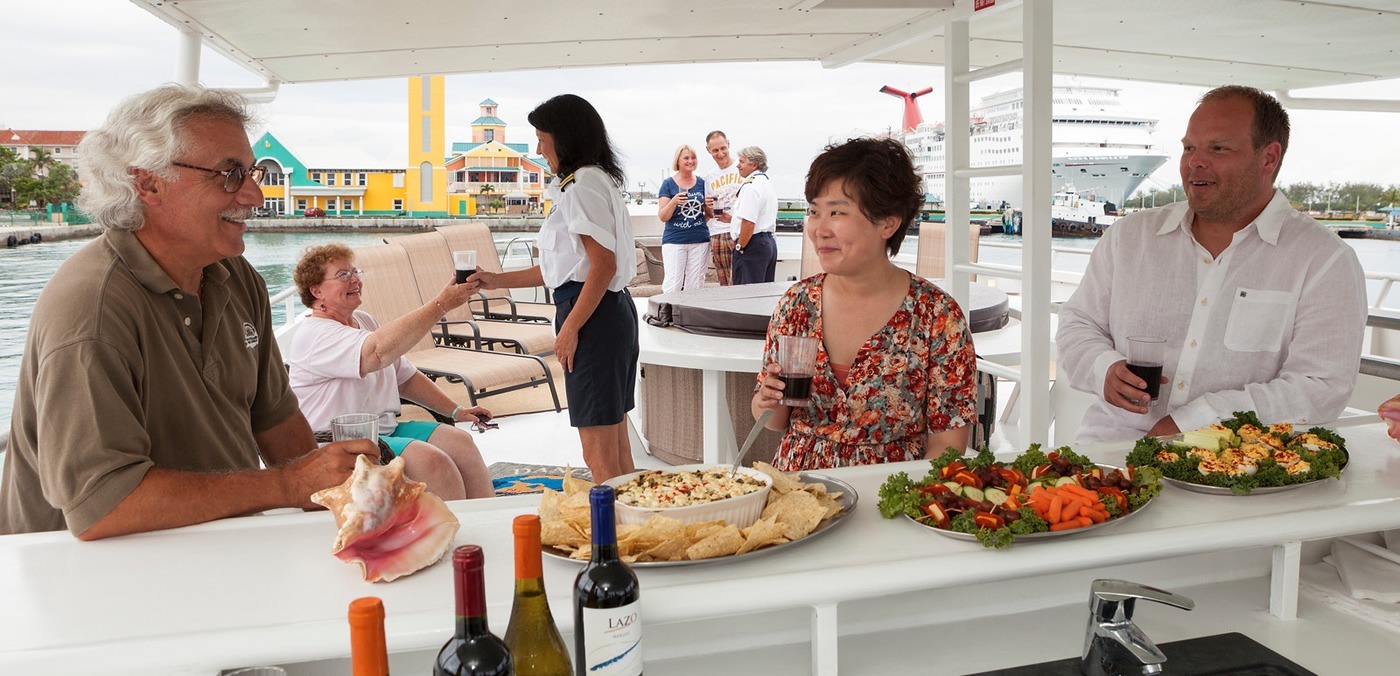 The menu onboard is varied and plentiful, with a variety of American feasts, barbecues and local cuisine. If you have any special dietary requirements, please be sure these are noted when completing the GIS. You will awaken to fresh fruits, hot entrees, cereals and juices. Lunches are buffet-style, featuring hot soups, homemade breads, salads and sandwiches and/or entrees. Dinners are chef prepared and served each evening and include salads, vegetables, seafood, beef or chicken with a fresh homemade dessert. Once onboard, please speak to the chef about any special needs. Certain special dietary and beverage requests may not be available due to the remote nature of this location.
The Aggressor's beverage selection includes fruit juices, soft drinks, iced water, iced tea, coffee, and a limited selection of local beer and wine, which are complimentary. Due to the high duty charged on liquor, we suggest you bring your special brand from the U.S. Drinking and diving do not mix. Once you consume alcohol, you become a snorkeler until the next day.
Four Brands,

One Family - Choose Your Adventure!
1